Here's a classic whole wheat pita bread recipe that you will just love. They're strong, flavorful, and dependable. Recipe adapted from Breadtime: A Down-to-Earth Cookbook for Bakers and Bread Lovers by Susan Jane Cheney, by permission of the author.
Recipe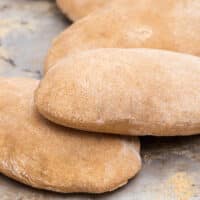 Whole Wheat Pita Bread
Here's a classic whole wheat pita bread recipe that you will just love. They're strong, flavorful, and dependable.
Print
Pin
Rate
Email
Ingredients
½

teaspoon

active dry yeast

1

cup

lukewarm filtered water

2 ½

cups

whole wheat bread flour

1

teaspoon

sea salt

1

tablespoon

olive oil or other vegetable oil

Cornmeal

for dusting
Instructions
In a medium-size bowl, sprinkle the yeast over the water and add a teaspoon of whole wheat flour. Cover and set in a warm spot for 5 to 10 minutes to proof.

Stir in 1 cup of the wheat flour to form a batter. Cover and set it aside for 30 minutes, or until a sponge develops.

Stir the salt and oil into the sponge. Add the flour, ½ cup at a time, stirring well after each addition, until the dough pulls away from the sides of the bowl and balls up in the center.

Turn the dough out onto a lightly floured surface and cover it for a few minutes. Thoroughly knead the dough, adding flour only as necessary to keep it from sticking.

When the dough is smooth and elastic, form it into a ball and place it in a lightly oiled bowl. Cover with a clean tea towel (see note) and set it in a draft-free spot for 1 to 2 hours, or until the dough has risen and does not rebound when pressed with a finger.

Turn the dough out onto the lightly floured surface again and knead it briefly. Put the dough back in the bowl, cover, and set it aside to rise for another 1 to 2 hours, until it does not spring back when pressed.

Divide the dough into 6 equal balls. Arrange on the floured surface; cover with the tea towel for 30 minutes.

On the lightly floured surface, use a rolling pin to roll each ball into an 8-inch circle slightly less than ¼ inch thick. Arrange these on baking sheets lightly dusted with cornmeal and cover them for 30 minutes.

Move a rack to the lowest position (leaving lots of space above it) in the oven and preheat to 500º F.

Before baking, make sure that the dough circles are not sticking to the baking sheet. If they are, gently lift them away and sprinkle more cornmeal under them.

Bake the pita breads for 5 minutes. They should puff up like balloons and be lightly browned. Do do not open the oven door before the 5 minutes is up, and make sure the oven has reheated to 500º F. before putting in another batch, in case you couldn't fit all onto your baking sheet at once.

If a bread doesn't puff, it will still taste good but won't have a pocket to fill

Wrap breads with a dry tea towel as soon as you remove them fro the oven. Serve them warm. Thoroughly cool breads before storing them.
Nutrition
Calories:
194
kcal
|
Carbohydrates:
36
g
|
Protein:
7
g
|
Fat:
4
g
|
Saturated Fat:
1
g
|
Polyunsaturated Fat:
1
g
|
Monounsaturated Fat:
2
g
|
Sodium:
391
mg
|
Potassium:
191
mg
|
Fiber:
6
g
|
Sugar:
1
g
|
Vitamin A:
5
IU
|
Vitamin C:
1
mg
|
Calcium:
19
mg
|
Iron:
2
mg
Vegan-ize any recipe!
Grab our free vegan cheat sheet, packed with my favorite easy substitutions to make any recipe vegan.
Notes:
What is meant by "tea towel" — a towel that's mainly flat cloth, not with the kind of standing fibers that most kitchen and hand towels have. You don't want those fibers getting on your breads!
To reheat pitas, wrap them in foil or place them in a covered baking dish and warm them at 350º F. for just a few minutes, so they they heat through but don't become dry and crisp.
Pita freezes well; place waxed paper between breads so they will not stick together (that way you can take them out one at a time if you'd like) and wrap them well.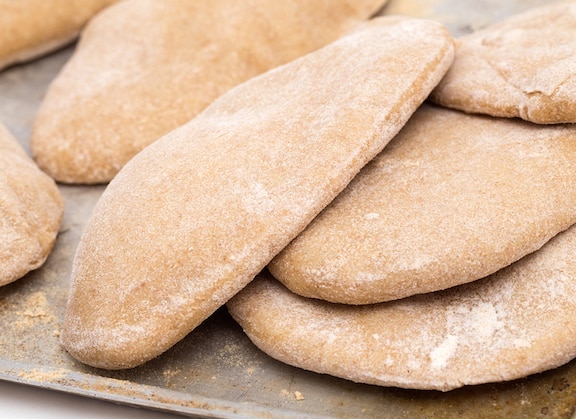 Here are more Global Flatbreads.