This naturally well-flavored side dish of sweet leeks and bell peppers (plus tasty shiitake mushrooms) goes well with just about any kind of simple plant-based protein entrée — tofu, tempeh, beans, or grains. Photos by Evan Atlas.
Serves: 4 to 6
2 large or 3 medium leeks
1 tablespoon extra-virgin olive oil
½ cup dry white wine, divided
4 ounces fresh shiitake mushrooms,
wiped clean, stemmed and sliced
2 medium red bell peppers, cut into narrow, 2-inch strips
Several sliced basil leaves or 2 to 3 tablespoons minced parsley leaves
Salt and freshly ground pepper to taste
Trim away the bottoms and large green leaves of the leeks. Use the white and palest green parts only. Cut the leeks lengthwise down the center, then into ¼-inch-thick slices. Transfer to a colander and rinse well until all grit is gone.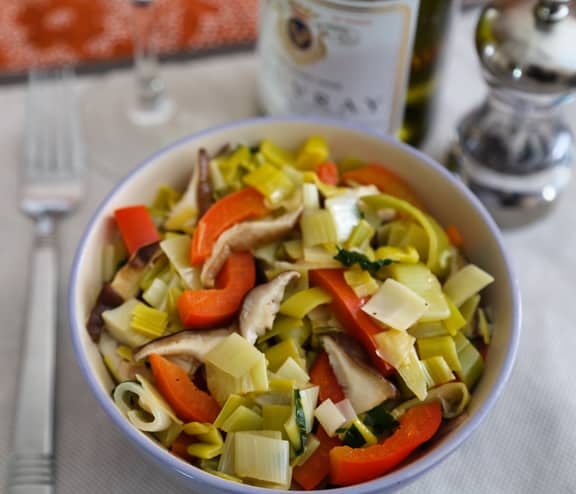 Heat the oil in a large skillet or steep-sided stir-fry pan. Add the leeks and half of the wine. Cook, covered, for 8 to 10 minutes, stirring occasionally, until the leeks have softened.
Add the mushrooms, bell peppers, and the remaining wine. Cook, covered, for 6 to 8 minutes more, or until the mushrooms have wilted and the bell peppers are tender-crisp.
Stir in the basil or parsley. Season with salt and pepper and serve.