Ashkenazi Jews consider honey cake to be an integral part of their New Year celebration. In this recipe, a combination of agave nectar and maple syrup add up to make a vegan honey cake that's practically indistinguishable from the classic version. Adapted from Vegan Holiday Kitchen. Photos by Susan Voisin.
Just-as-Sweet-as-Honey Cake
Makes 2 loaves, 12 slices each
Ingredients
2 ½ cups whole wheat pastry flour
1 tbsp baking powder
1 tsp baking soda
1 tbsp cinnamon
½ tsp ground ginger
½ tsp ground cloves or allspice
½ cup safflower oil
½ cup dark agave nectar
½ cup pure maple syrup
1 cup applesauce
2 tsp vanilla extract
½ cup raisins
sliced almonds for topping
Instructions
Preheat the oven to 325°F.
Combine the first 6 (dry) ingredients in a mixing bowl and stir until completely blended.
Make a well in the center of the dry ingredients and pour in the oil, agave, syrup, applesauce, and vanilla. Stir together until the wet and dry ingredients are thoroughly combined, then stir in the raisins.
Cut two pieces of baking parchment to fit the bottoms of two standard loaf pans (9 by 5 by 3-inch). Lightly oil the sides. Divide the batter among the two loaf pans. Sprinkle the almonds evenly over the tops of the loaves.
Bake for 40 to 50 minutes, or until a knife inserted in the center of a loaf tests clean. Take care not to overbake.
Allow the cakes to cool completely. Use a knife to go around the sides of the loaves to loosen if need be, then carefully remove the loaves from the pans by tipping them into your hand, then setting on a platter. Cut each loaf into 12 slices to serve.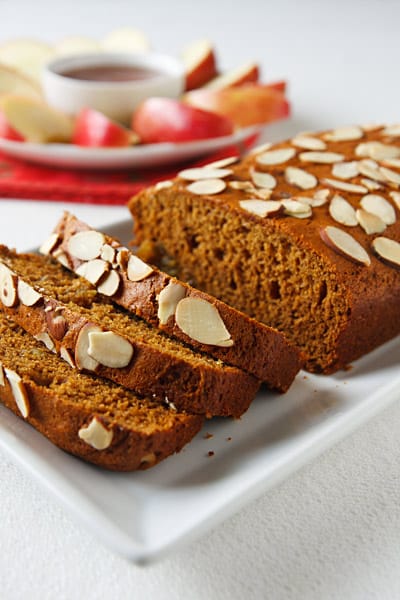 *This post contains affiliate links. If the product is purchased by linking through this review, VegKitchen receives a modest commission, which helps maintain our site and helps it to continue growing!