If you like artichokes, you'll love this tangy vegan sour cream artichoke dip. And being to make it in 5 minutes flat makes it even more appealing. We used Follow Your Heart vegan sour cream, but you can use any brand your natural foods store carries. (when you have more than 5 minutes to spare until snack time, there's also a link to a recipe for homemade vegan sour cream in the ingredient list). Serve with veggie chips, tortilla chips, or raw vegetables.
Makes: About 1 1/2 cups
6- to 8-ounce jar marinated artichoke hearts

1 cup vegan sour cream (your favorite brand or homemade)

1 tablespoon lemon or lime juice (fresh or bottled)

1 tablespoon chopped fresh dill (or 1/2 teaspoon dried)

Finely chopped fresh chives to taste, optional

Salt and freshly ground pepper to taste
1  Drain the artichoke hearts and coarsely chop. Remove and discard any tough outer leaves.
2  In a small serving bowl, combine the artichoke hearts (save a few for garnish if you'd like) with the remaining ingredients and stir together.
3  Serve as suggested above, and dig in!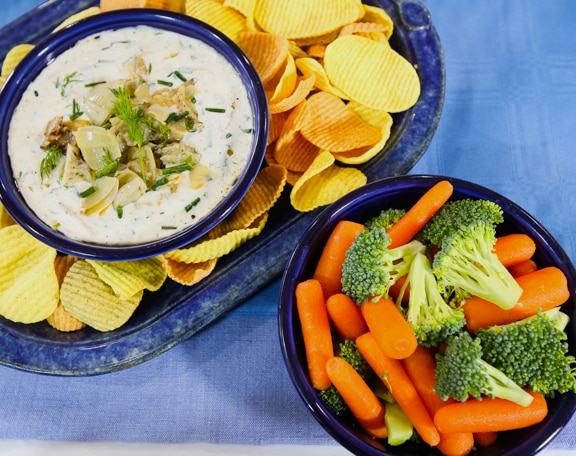 Another use:
Serve this dip is as a delicious topping for baked potatoes.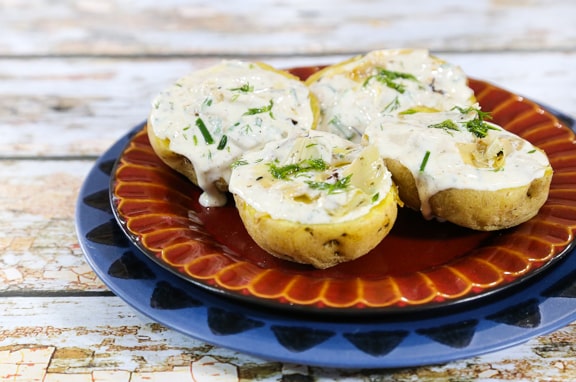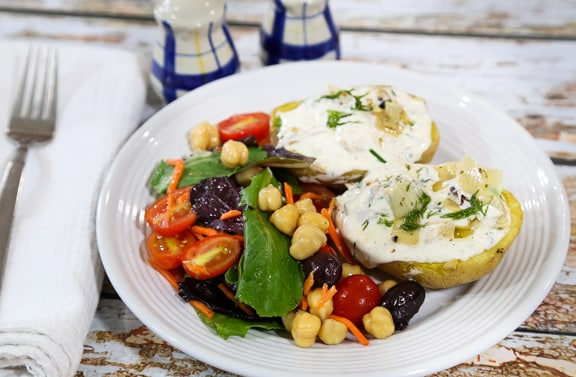 Photos by Evan Atlas