This vegan crab dip, made with jackfruit, is so creamy and mild in flavor, perfect for spreading on crackers or for dipping with your favorite veggies. Our vegan version is every bit as good as the conventional version. Shredded young jackfruit is surprisingly similar in texture to crab, and the flavors of the Dijon, Old Bay seasoning and the other spices are spot on.
In case you're not familiar with Old Bay seasoning, let us acquaint you. Old Bay is a fragrant mix of spices, such as celery salt, mace, cloves, ginger, cardamom, and more. It's what gives most crab cakes their flavor, and it's what brings this crab dip to life.
To get the texture and mouth feel of crab, we used shredded jackfruit, and the creaminess of mayonnaise comes from cashews. It's the ultimate party food. Bring this, and your appetite, to your next get together. You and your friends are going to love it! Serve with crackers, toasted sliced bread or corn chips. Recipe and photos from Great Vegan BBQ Without a Grill by Linda and Alex Meyer, the mother-daughter team behind Veganosity. © 2018, Page Street Publishing, reprinted by permission.
Serves: 4 to 6
2 cups raw cashews, soaked in 2 cups water overnight

1 large clove garlic

¼ cup unsweetened cashew milk or other vegan milk

2 tbsp lemon juice

2 tbsp Dijon mustard

½ tsp Old Bay seasoning

½ tsp ground sea salt

¼ tsp ground paprika

⅛ tsp onion powder

14-ounce can young jackfruit packed in water or 1½ cups fresh jackfruit
Drain and rinse the cashews and put into a high-powered blender or food processor. Add the garlic, cashew milk, lemon juice, mustard, Old Bay seasoning, salt, paprika and onion powder and blend for approximately 2 minutes (scrape the sides frequently), or until it's smooth and velvety. You shouldn't see or taste pieces of solid nuts.
Scrape the cashew mixture into a medium bowl.
Drain and rinse the jackfruit well. Shred the jackfruit with a fork or in a food processor and put in the bowl with the cashew mixture. Gently fold until fully combined. Serve with crackers, toast or sliced vegetables.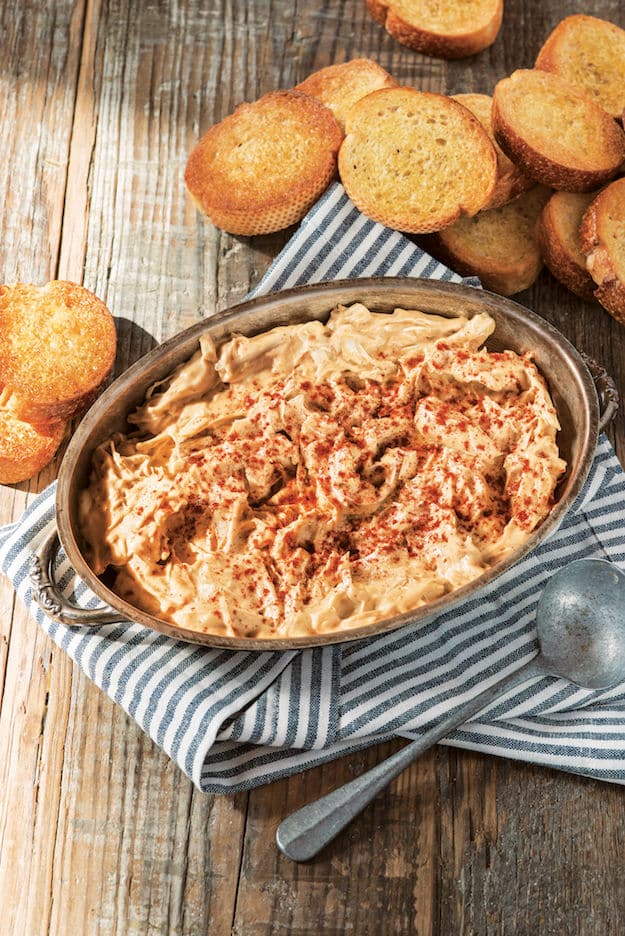 *This post contains affiliate links. If the product is purchased by linking through, VegKitchen receives a modest commission, which helps maintain our site and helps it to continue growing!