This lively stir-fry of corn and cabbage, intertwined with hearty Asian noodles, will be on the table quickly you when you want something easy and spicy. Photos by Hannah Kaminsky of Bittersweet.
Serves: 4 to 6
8 ounces soba or udon noodles (or substitute
whole-grain linguine)
1 tablespoon olive oil
1 large onion, quartered and thinly sliced
4 cups thinly sliced green cabbage
(or use pre-shredded coleslaw cabbage as a shortcut)
2 cloves garlic, minced
¼ cup dry white wine or water
2 cups cooked fresh corn kernels (scraped from 3 medium ears),
or thawed frozen corn kernels
1 medium red bell pepper, finely diced
1 or 2 small fresh hot chili peppers, seeded and minced,
or dried red pepper flakes to taste
2 teaspoons dark sesame oil, optional
¼ cup minced fresh cilantro, or more to taste, optional
Reduced-sodium soy sauce or tamari to taste
Cook the noodles in plenty of rapidly simmering water until al dente, then drain.
Heat the oil in a stir-fry pan. Add the onion and sauté over medium heat until translucent. Add the cabbage, garlic, and wine. Cover and cook until the cabbage is just slightly limp, about 5 minutes.
Add the corn, bell pepper, and chili pepper, and stir-fry over medium-high heat until everything is tender-crisp, about 5 to 8 minutes.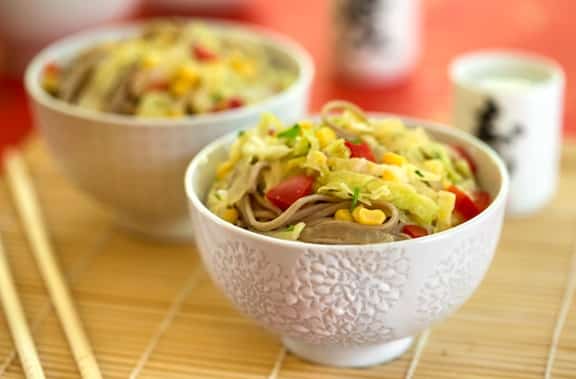 Combine the cooked noodles, cabbage-and-corn mixture, and the remaining ingredients in a serving bowl and toss well. If a bit more moistness is needed, add a small amount of water, then toss again. Serve at once.
Nutrition Information:
Per Serving: 133.6 calories; 2.7g total fat; 25g carbs; 1.8g fiber; 5.2g protein; 254mg sodium