Eggplant and peppers, two companionable vegetables, are combined in a delicious casserole with a creamy, cheesy (vegan) topping. Serve with a simple grain or pasta dish (or serve over grains or pasta) and a colorful salad augmented by beans or chickpeas.
Serves: 6 to 8
2 tablespoons olive oil, divided
1 large onion, finely chopped
2 to 3 cloves garlic
1 large or 2 smaller eggplants, any variety, about 1 pound total, diced
1 to 1 ½ cups diced ripe tomatoes
1 teaspoon dried basil
1 teaspoon ground cumin
2 tablespoons unbleached white flour
½ cup unsweetened rice milk or other nondairy milk
1 cup grated mozzarella-style vegan cheese
Salt and freshly ground pepper to taste
Pinch of cayenne pepper or dried hot red pepper flakes
¼ cup wheat germ or quinoa flakes
1 medium red bell pepper, cut into short narrow strips
1 medium green bell peppers, cut into short narrow strips
⅓ cup sliced black olives (preferably cured, like Kalamata)
Preheat the oven to 350 degrees F.
Heat half the oil in a large skillet. Add the onion and garlic and sauté over medium heat until the onion begins to turn golden.
Add the eggplant and just enough water to keep the bottom of the skillet moist. Cover and cook over medium heat, stirring frequently. When the eggplant is about half done, stir in the tomatoes, basil and cumin. Cook until the eggplant is tender but not overdone, adding small amounts of water as needed while cooking to keep the skillet moist.
Sprinkle the flour over the vegetables and stir it in. Stir in the nondairy milk and cheese and continue to cook, stirring gently, until the liquid is thickened. Season with salt and pepper and cayenne or red pepper flakes to taste.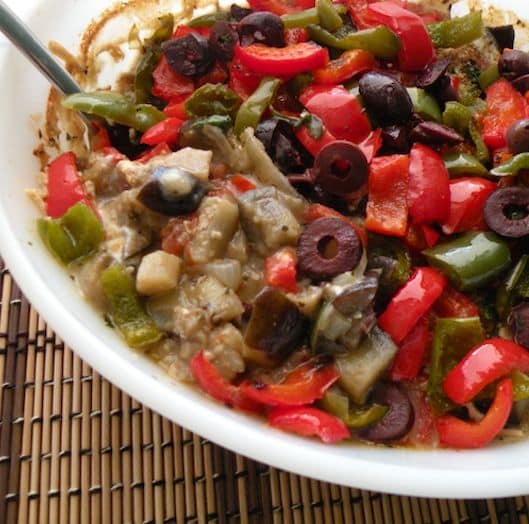 Lightly oil a 1 ½ quart shallow baking casserole dish and coat the bottom evenly with wheat germ, quinoa flakes, or quick-cooking oats. Pat the eggplant mixture into it.
Combine the red and green bell peppers in a small mixing bowl and drizzle the remaining olive oil over them. Stir to coat. Transfer the peppers to the casserole dish, distributing them evenly over the top. Sprinkle the olives evenly over the peppers.
Bake for 30 to 35 minutes, or until the casserole is bubbly and the peppers are tender. Let cool for 5 minutes or so, then scoop out sections to serve. This is more of a soft casserole, it won't set up enough to cut squares or such.