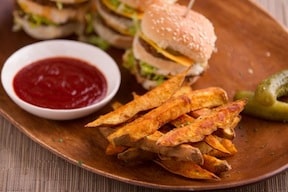 This Baked Sweet Potato "Fries" recipe is from the The Happiest Meal Happy Hour Menu in The Sexy Vegan's Happy Hour at Home* by Brian Patton, which also includes a recipe for Little Macs with Very, Very Special Sauce. Excerpted with permission from The Sexy Vegan's Happy Hour at Home* ©2013 by Brian Patton. Published with permission of New World Library.
Serves: 4
2 large sweet potatoes, cut into ½-inch-thick wedges

2 teaspoons extra-virgin olive oil

½ teaspoon smoked paprika

¼ teaspoon ground coriander

¼ teaspoon ground cumin

¼ teaspoon salt

Pinch of pepper

Adobo Dipping Sauce (recipe follows)
Preheat the oven to 350° F. Line a baking sheet with parchment paper or a Silpat baking mat.
In a medium bowl, combine the sweet potatoes, oil, paprika, coriander, cumin, salt, and pepper, and toss until the sweet potatoes are well coated. Spread out the sweet potatoes in a single layer on the baking sheet.
Roast for 45 to 50 minutes, or until cooked through and browned. Keep them warm in a 200°F oven until ready to serve. Serve with Adobo Dipping Sauce.
-
Adobo Dipping Sauce
¼ cup ketchup

1 ½ cups vegan mayo

½ teaspoon fresh lime juice

1 teaspoon adobo sauce (see Note)
In a small bowl, whisk all this stuff together.
Note: Adobo sauce that thick, deep red sauce that canned chipotle peppers are packed in. It's spicy with a great smoky flavor, and it usually comes in a 7-ounce can labeled Chipotle Peppers in Adobo Sauce.
Brian Patton is author of The Sexy Vegan's Happy Hour at Home* and The Sexy Vegan Cookbook*. He is also executive chef for Vegin' Out, a vegan food delivery service in Los Angeles. As the quintessential "regular dude" vegan chef, he started posting instructional cooking videos on YouTube as his witty, ukulele playing alter-ego The Sexy Vegan and quickly gained a large following. Visit him online at The Sexy Vegan. 
*This post contains affiliate links. If the product is purchased by linking through this review, VegKitchen receives a modest commission, which helps maintain our site and helps it to continue growing!