A delightful pasta dish seasoned with sun dried tomatoes marinated in white wine and fresh basil. This dish is quick and easy if you marinate the tomatoes earlier in the day. Recipe from Taste Life! Organic Recipes* (2002) by Leslie Cerier. Reprinted by permission of Square One Publishers. Photos by Evan Atlas.
Serves 4 to 6
⅔ cup white wine
1 cup sun-dried tomatoes, not packed in oil, sliced
8 to 10 ounces pasta, any short shape
3 tablespoons extra-virgin olive oil
2 medium onions, sliced
10 cloves garlic, sliced
2 medium zucchinis, sliced
2 bunches fresh basil (about 1 ½ cup leaves)
2 tablespoons umeboshi vinegar or
lemon juice and sea salt to taste
Marinate sun-dried tomatoes in wine for an hour or so.
Cook pasta in plenty of rapidly simmering water until al dente, then drain.
Meanwhile, in a heavy skillet or stir-fry pan, heat 1 tablespoon of the olive oil and sauté the onions and garlic for 2 minutes.
Add marinated tomatoes and wine. Sauté-simmer for 5 minutes. Add zucchini and sauté for 5 minutes. Stir in basil and umeboshi vinegar.
Combine the skillet mixture with the cooked pasta in a serving bowl. Taste and ddjust the seasonings, if desired, then serve at once.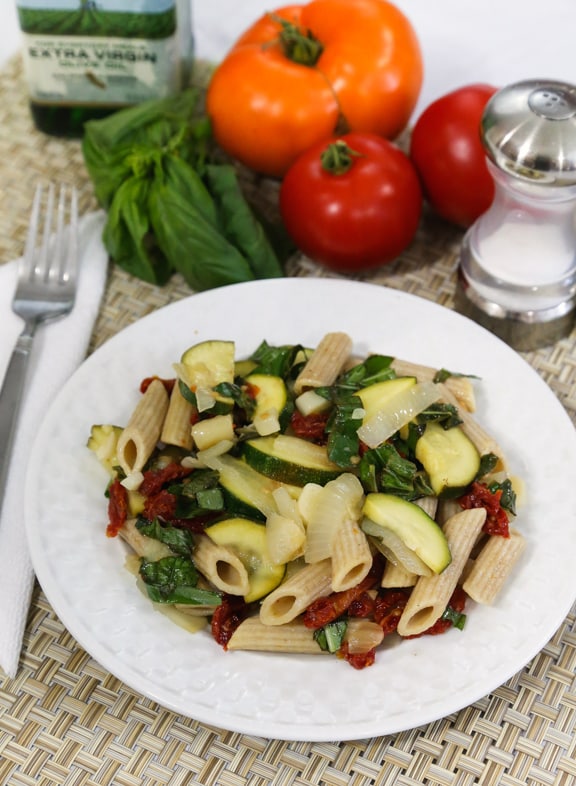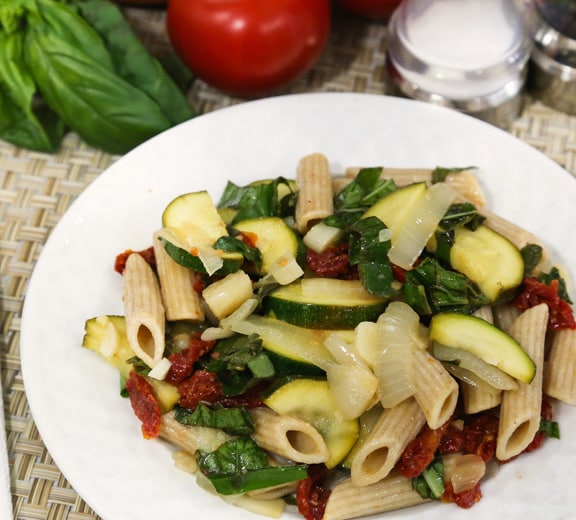 *This post contains affiliate links. If the product is purchased by linking through this review, VegKitchen receives a modest commission, which helps maintain our site and helps it to continue growing!