A serving of greens, pineapple, and protein balance this sweet and savory Hawaiian tofu bowl perfectly. It does get a little involved, with a pan in the oven and a skillet on the stovetop, but it's straightforward. I won't be mad at you  for picking up barbecue sauce at the store to cut down on steps; keep it as simple as you need. Recipe and photo from The Simply Vegan Cookbook: Easy, Healthy, Fun, and Filling Plant-Based Recipes Anyone Can Cook by Dustin Harder ©  2018 Rockridge Press, reprinted by permission.
Serves: 4
Prep time: 10 minutes
Cook time: 20 minutes
1 large red onion, cut into ¼-inch slices

1 red bell pepper, seeded and cut into

¼-inch slices

1 tablespoon plus 1 teaspoon olive oil, plus more as needed, divided

14-ounce block extra-firm tofu, drained and cut into 1-inch cubes

20-ounce can sliced pineapple, drained, or 1 pineapple, peeled, cored, and cut into ¼-inch slices

1 cup BBQ Sauce or store-bought barbecue sauce

5-ounce package baby spinach

1 cup cooked quinoa

Chopped fresh cilantro, for garnish (optional)
Preheat the oven to 425°F. Line a large baking sheet with parchment paper.
In a bowl, toss the onion and bell pepper with1 tablespoon of olive oil. Spread them out on half of the prepared baking sheet. Spread out the tofu cubes on the other half. Bake for 10 minutes, toss with a spatula, and bake for 10 more minutes.
While the tofu and vegetables are baking, heat the remaining 1 teaspoon of olive oil in a large skillet over medium-high heat. Add the pineapple slices in batches and sauté until darkly browned on both sides, adding more oil as needed.
Toss the baked tofu with the barbecue sauce until thoroughly coated.
Divide the spinach and quinoa among 4 bowls. Top with the vegetables, tofu, and pineapple. Garnish with cilantro, if desired.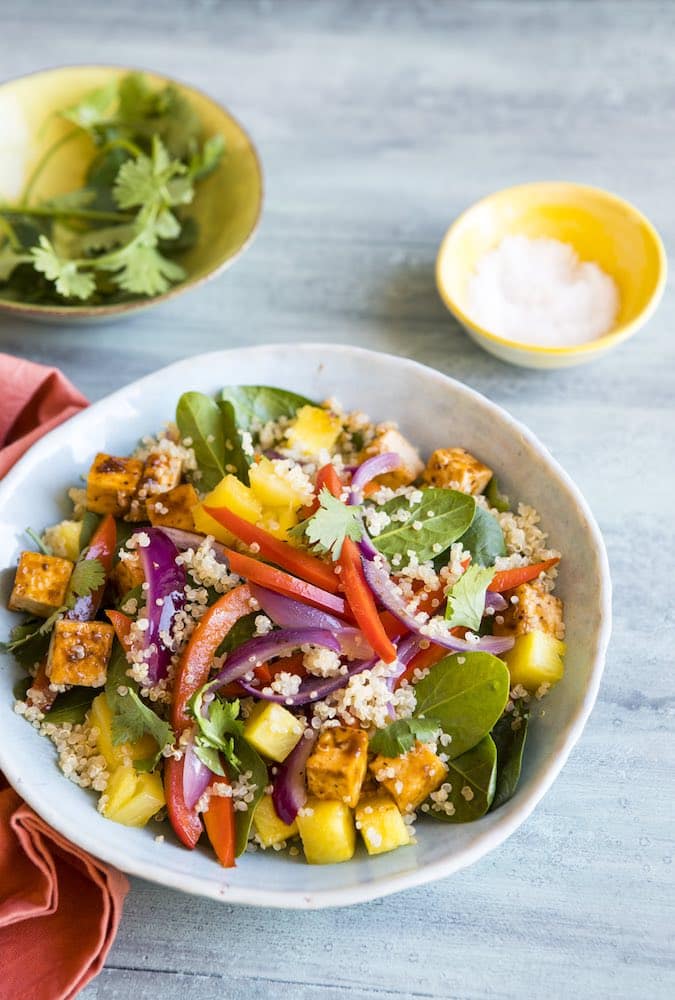 You might also like: