Vegan bowls deserve their status a hot food trend. How can you go wrong with a one-dish meal that includes plant-based protein, veggies (or sometimes fruit), and grains? The best easy vegan bowls are also arranged to please your eyes as well as your palate.
Well, there's actually one place where you can go wrong. Once something like bowls becomes trendy, cookbook authors and bloggers jump on the bandwagon and complicate what should be a super-easy meal to prepare. Honestly, there's no earthly reason you need a recipe to make a great vegan bowl.
This really is where a picture is worth a thousand words. Once you have your base ingredient cooked (most often a grain; sometimes noodles) a bowl should take hardly longer to prepare than a sandwich or salad.
Bowls are fantastic for breakfast, lunch, or dinner, depending on what goes on them. They're easy to construct right in your portable container to take to work for lunch. A simple sauce or dressing (which can be store-bought) ties the ingredients together. They're good served at room temperature, though you can top freshly cooked grains to serve them warm/cold.
Here are some beautiful and simple bowls that can be put together quickly, with minimal prep, and no need to follow a specific formula. That also means that you can take these ideas and tailor them to your taste, leave something out, and add something you'd prefer.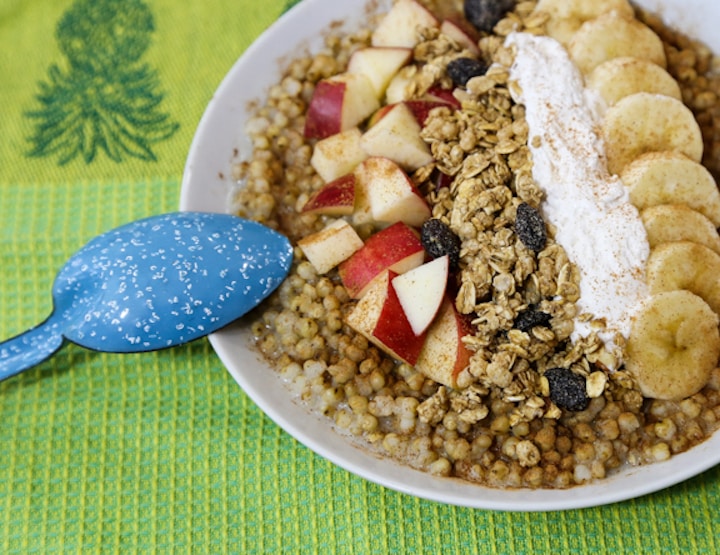 A fruit and granola breakfast bowl is a great way to start your day. It's a bounty of flavor and nutrition! Arrange diced apple, sliced banana, granola, and nondairy yogurt (optional) on your grain of choice. Spelt, kamut, barley, rice, quinoa — they all work. So do steel-cut oats or even oatmeal, if you haven't planned ahead. You can drizzle in a little nondairy milk, and end with a sprinkling of cinnamon.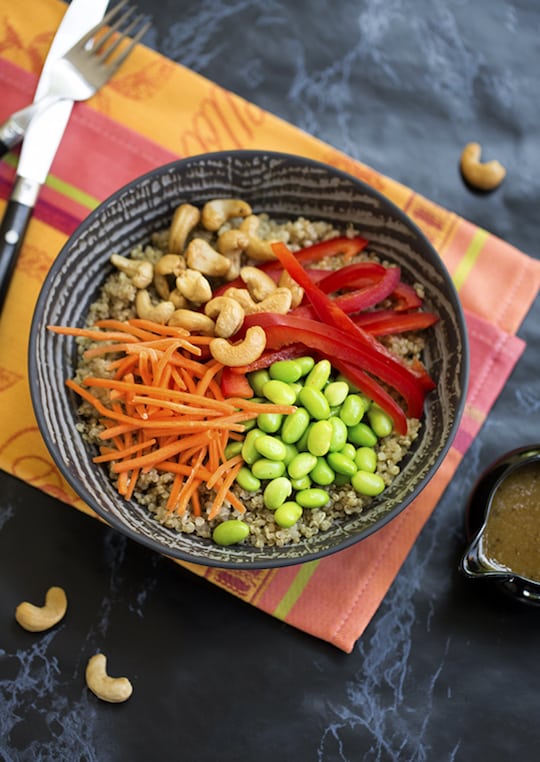 This edamame and cashew bowl gives you a heaping helping of protein. Arrange cooked edamame, cashews (and/or almonds), skinny baby carrots, and sliced peppers on quinoa or any other grain you choose. Sesame-ginger dressing adds just the right flavor.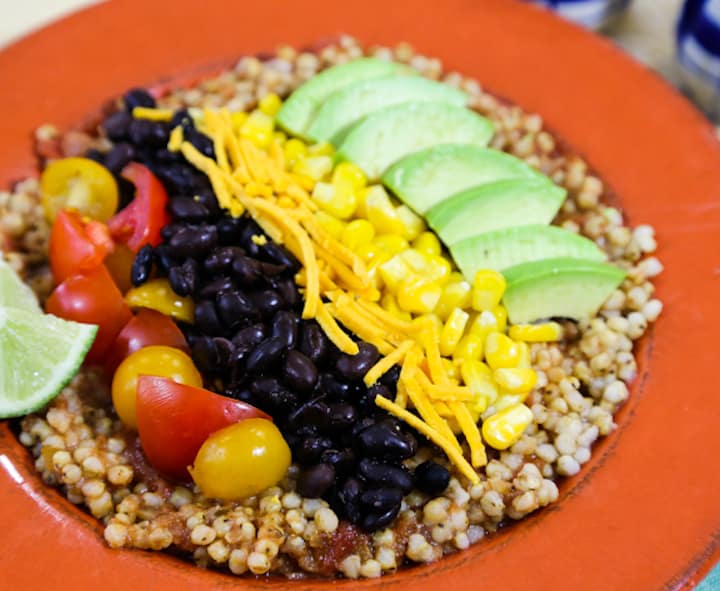 A simple Southwestern bowl starts with a bed of your favorite grain. Here we used sorghum, but brown rice or quinoa would work well, too. Then, arrange some black or pinto beans, sliced avocado, diced tomatoes, and lightly cooked corn kernels on it. Optional: Vegan cheese shreds. Top it off with your favorite dressing or salsa.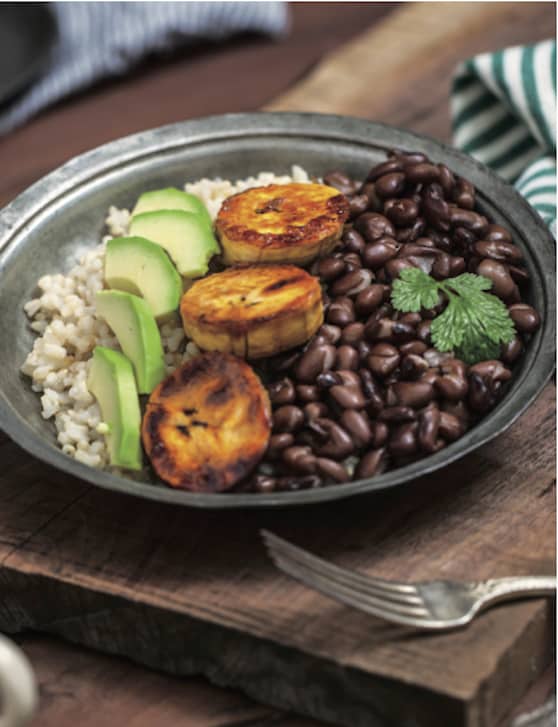 Cuban brown rice bowl is simple preparation. Created by chef Marco Borges, it does come with a very minimal recipe, but trust me, you don't need to follow it! What you see here is what you use: Brown rice, black beans, sliced avocado, and pan-sautéed plantains are all you need. Are plantains too exotic for you? Use sautéed bananas instead. Perfect topping: pico de gallo.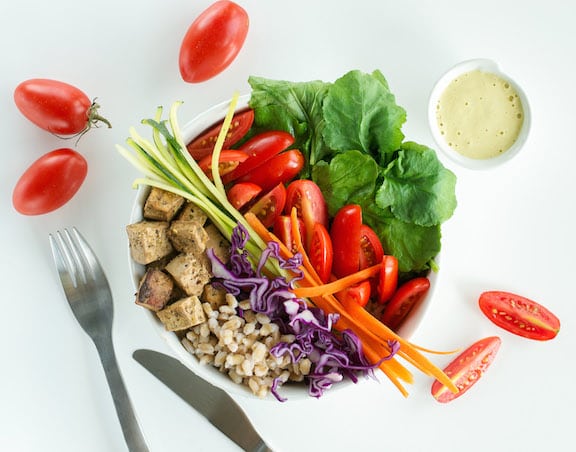 This vegetable barley bowl is an edible work of art by Ann Oliverio. It's also a what-you-see-is-what-you-do kind of bowl. Cubes of baked tofu, thinly sliced veggies, halved cherry tomatoes, and baby spinach are artfully arranged on cooked barley. Use any other cooked grain in place of barley, of course, and drizzle on your favorite dressing — a tahini-based dressing is great for this.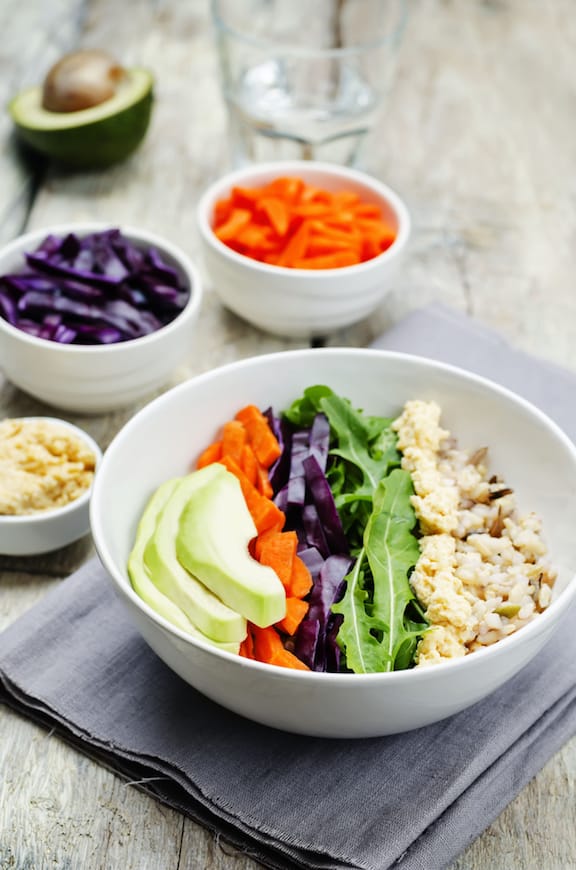 Brown rice and hummus bowl can be made in minutes. Simply cooked brown rice is topped with red cabbage, carrots, baby greens, and avocado. Vary it as you'd like. The crowning touch is a dollop of hummus.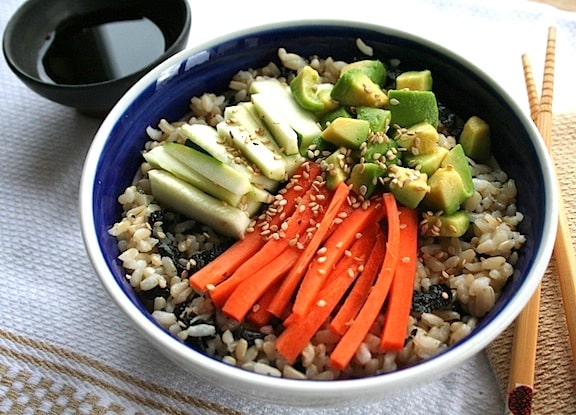 Veggie sushi rice bowls give you an easy way to enjoy the flavors of vegetable sushi, without all the rolling and fussing. To give this some extra flavor, stir a little rice vinegar (or other mild vinegar) and a pinch of natural granulated sugar into the rice. Cut a few seaweed snacks to scatter over the rice.
Then, top with your favorite veggie sushi ingredients. Here we used grated carrots, cut cucumbers, and avocado; you can also use daikon radish and mushrooms. Top with a sprinkling of sesame seeds if you'd like, and serve with soy sauce or tamari.