Easy and tasty are the names of the game here, and these tacos are both (even if using bottled BBQ sauce and dressing and pre-made corn tortillas) and incredibly versatile. You can dress them up fancy or just take them as is and dig in. Oh, and did I mention they're mad economical? If you have some of these ingredients on hand, this whole meal will cost you around $12 bucks, which is about the going rate for a top-shelf margarita in Chicago. Recipe and photos contributed by Ashlee Piper from her blog The Little Foxes.
Makes 12 tacos
Mexicali Slaw
1 small red onion, diced

3 green onion (scallion) stems, finely chopped

10-ounce package shredded green cabbage (purple or a mix are fine, too)
or about 3 packed cups

½ teaspoon cumin

½ teaspoon smoked paprika

½ cup Annie's Goddess Dressing (or TJ's Goddess Dressing)

Juice of one lime

Sea salt and freshly ground pepper, to taste

1 package (about 12) good-quality corn tortillas (organic tortillas are non-GMO)
BBQ Tofu
2 packages (14 ounches each) organic extra firm tofu (I used

Nasoya




because I really like the density of the tofu)

1 teaspoon olive oil, for sautéing

1 tablespoon cumin

1 teaspoon smoked paprika

1 teaspoon ground ginger

Freshly ground sea salt and pepper to taste

2 tablespoon olive oil, for sautéing

½ cup natural vegan barbecue sauce (your favorite brand)
or Quick Vegan Barbecue Sauce
Optional garnishes (any or all):

Fresh cilantro
Toasted pepitas
Sriracha (or preferred hot sauce)
Shredded vegan cheese
Make the slaw first to allow time for it to chill in the fridge. Combine all slaw ingredients in a bowl and mix well. Place covered in refrigerator to chill before serving.
Remove tofu from packages and drain the liquid. You can make this recipe simply by patting the tofu bricks dry with a paper towel, if you like, but for the more ambitious among us, feel free to use a tofu press to extract all of the water to get a really dry, firm product.
Cut the tofu in to ¼ inch dice and place in a nonstick skillet. Do not turn on the heat yet.
Add cumin, smoked paprika, ground ginger, and salt and pepper to tofu and coat all pieces evenly with the dry mixture.
Add a spray of olive oil and saute tofu on medium until the spices caramelize slightly and the tofu is cooked through (about 8 minutes).
Once cooked, reduce heat to low-medium and add BBQ sauce and just a little water (if you desire a more saucy consistency). Coat tofu completely and allow to cook and caramelize on tofu (about 5 minutes). Remove from burner and allow to cool for a minute.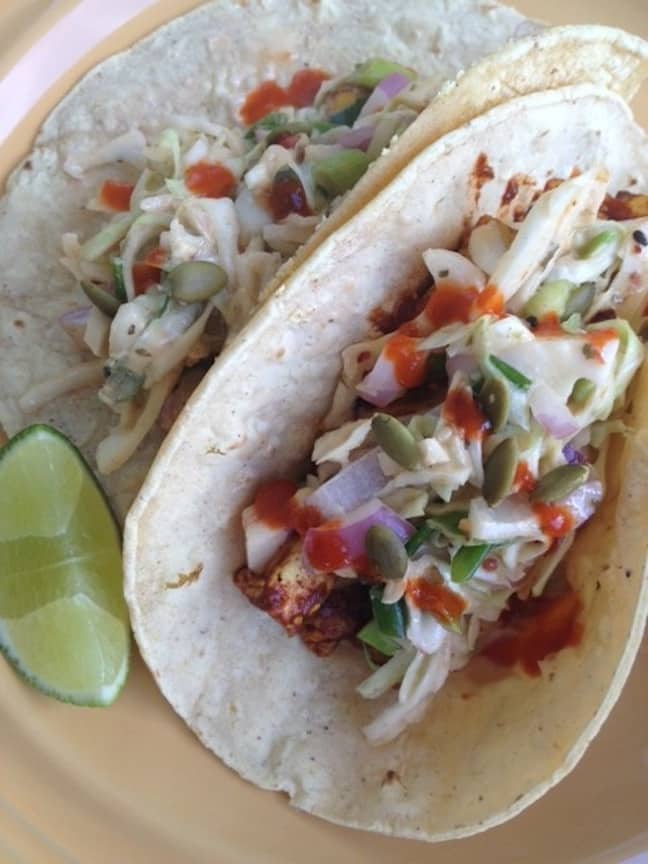 Cover tortillas in a paper towel and microwave for about 1 minute or until supple. Alternatively, you can warm tortillas directly on a stove burner at low heat (this is not for folks who don't like to monitor their food) until supple. 
Assemble tacos as follows: Place tortillas on plate, add tofu, top with cole slaw. Feel free to get crazy with other garnishes like fresh cilantro, a slice of juicy lime, toasted pepitas, cashew cream, or Sriracha or other hot sauce. I take mine with pepitas, Sriracha, and a lil' squeeze of lime. 
Enjoy with lots of napkins, good company, and a margarita.
Ashlee Piper is a governmental strategist, writer, and wellness coach living in Chicago. She owns All Is Wellness, a boutique plant-based lifestyle consultancy, and manages the Vegucated Schoolhouse Online Community, a free space that offers expert advice and support to thousands of people in transition to veganism. Her writing can be found in Ecorazzi, Reader's Digest, Our Hen House, and Girlie Girl Army, and on her own vegan food and style website, The Little Foxes.

Nutritional Information:
Per serving: 197 calories; 12g fat; 214.7mg sodium; 173mg potassium; 16.4g carbs; 3g fiber; 2.1g sugar; 7g protein