These generous quesadillas, filled with black beans, broccoli, and portobello mushrooms, make a substantial one-dish meal that's easily completed with a simple salad on the side. Using a judicious sprinkling of vegan cheese make these extra yummy, but if you object to vegan cheese, skip it. Note, however, that there will be nothing "queso" about these quesadillas, which are essentially embellished grilled cheese sandwiches made with tortillas (and usually embellished with other ingredients). 
You can dress these up as you'd like with all the optional ingredients, or keep them simple with just the 6 essential ingredients! A good prepared salsa plays an important role in these, so make sure to choose a flavorful variety.
Makes 3 to 4 quesadillas
6 ounces portobello mushrooms, cleaned and cut into bite-sized slices

1 ½ cups finely chopped broccoli florets

15- to 16-ounce can black beans (about 1 ½ cps cooked), drained and rinsed

1 cup salsa (any favorite kind—use something interesting like chipotle, garden vegetable, etc.), plus more for serving

3 to 4 flour tortillas or wraps, preferably whole grain and natural,




about 10 inches in diameter

Vegan cheddar or nacho grated cheese, as desired
Optional embellishments (use any, all, or none)

Thinly sliced scallion, optional

Chopped fresh cilantro, as desired, optional

1 to 2 fresh hot chili peppers, seeded and minced

Sliced avocado for topping
If you'd like to bake these, preheat the oven to 400 degrees F. Otherwise, follow the instructions for cooking on the stovetop.
Steam the portobello slices in a skillet with a small amount of water, covered, until they soften. Add the broccoli and continue to steam, covered, until it's bright green and tender-crisp. Remove from the heat and drain.
Combine the beans and salsa in a mixing bowl.
If the tortillas you're using are less than 10 inches in diameter, you'll be dividing the ingredients between 4 tortillas; if 10 inches or more, divide among 3 tortillas.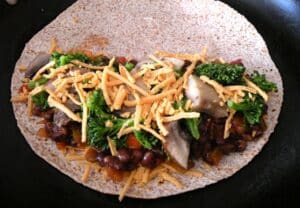 To bake in the oven: Lay a tortilla on a baking sheet. Sprinkle one half of it with a little vegan cheese, then spread that half of it with ¼ to ⅓ of the black bean mixture, followed by ¼ to ⅓ of the broccoli and mushroom mixture, depending on the size of the tortilla.
Sprinkle with cilantro, scallions, and/or chilies, if desired. Sprinkle with a little more vegan cheese, then fold over to cover. Repeat with the remaining tortillas. Bake for 10 minutes, or until the tortillas begins to turn golden and crisp. Watch carefully!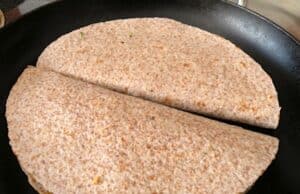 To cook on the stovetop: Follow the same instructions for assembling the quesadillas as above, doing so right on a heated skillet or griddle (no oil needed). If your skillet or griddle is wide enough, you can cook two at a time. Cook over medium-high heat until golden and crisp on both sides, about 3 to 5 minutes per side. You'll need an extra-large spatula to flip these!
To serve, place each quesadilla or half of a quesadilla on individual plates. Top each serving with thinly sliced avocado, if you'd like, and more salsa. Eat with knife and fork, or out of hand (with plenty of napkins!)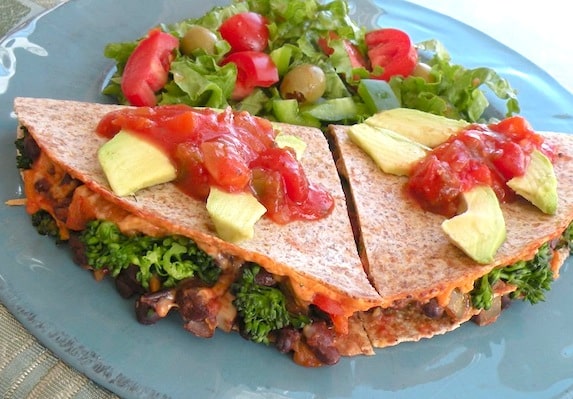 Nutrition Information
Per serving (without embellishments): 400.9 calories; 8.8g fat; 1,247.8mg sodium; 277.2mg potassium; 68.1g carbs; 13.3g fiber; 2.3g sugar; 17.5g protein