A sweet and spicy pineapple salsa adds an intriguing flavor element to these easy vegan quesadillas featuring convenient baby greens, prepared refried beans, avocado, and tomato. If you're short on time, skip the homemade salsa, and use a prepared pineapple or mango salsa instead. Either way, finish the meal with a simple salad. For heartier appetites, add some cooked quiona or a baked sweet potato. Photos by Evan Atlas.
Serves: 4 generously, 8 moderately
4 to 5 ounces baby spinach (or use a combination
of spinach and arugula or baby kale)

One 15- to 16-ounce can refried beans (any vegan variety)

2 medium firm, ripe tomatoes, halved and sliced

1 medium avocado, peeled and sliced

1 ⅓ cups shredded vegan cheddar-style cheese

Four 12-inch flour tortillas or wraps

Pineapple Salsa

,

1 cup, or as desired, or prepared salsa
Preheat the oven to 425 degrees F.
Rinse the greens and steam in a wide skillet or stir-fry pan, just for a minute or so (covered), until wilted. Transfer to a colander and squeeze out the water.
If the refried beans are really dense, combine them with a small amount of water in a mixing bowl—just enough to make the beans more spreadable and thin them out. But if they seem spreadable, as some brands are, skip this step.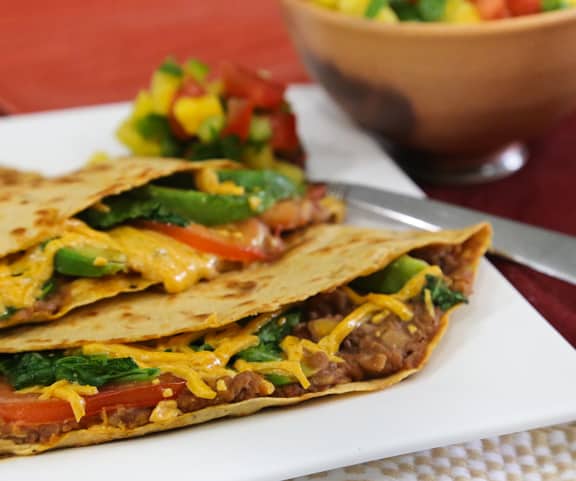 Lay a tortilla on a baking sheet. Spread one half of it with ¼ of the refried beans, followed by ¼ of the greens and ¼ of the tomato slices, ¼ of the sliced avocado, and ⅓ cup of the cheese.Fold over to cover. Repeat with the remaining tortillas, using an additional baking sheet if needed.
Bake for 8 to 10 minutes, or until the tortillas begins to turn golden and crisp. Watch carefully so they don't get overbaked!
To serve, place each quesadilla or half of a quesadilla on individual plates. Serve at once, passing around salsa to top individual portions.
Nutrition Information
Per quesadilla: 394 calories; 13g fat; 735mg sodium; 58g carbs; 11g fiber; 13g protein