A delicious starter to any meal when served with crisp vegetables
or small bites of bread, this tapenade features some of the finest flavors in European cuisine. Use as a mix-in to stews and pasta dishes for a ton of added flavor with very little effort. Recipe and photo contributed by Allyson Kramer, from Great Gluten-Free Vegan Eats Around the World* © 2013 Fair Winds Press, reprinted by permission.
Makes: About 1 ½ cups
15 sun-dried tomatoes

½  cup water (substitute 3 tablespoons of water with
white wine for an extra bit of zing)

1 tablespoon olive oil 

1 small red onion, diced 

1 clove garlic, sliced 

1 teaspoon sea salt, divided 

1 ½ cups pitted black olives 

Flatbreads or gluten-free crackers
Fresh cilantro sprigs for garnish
In a small bowl, soak the sun-dried tomatoes in the water for about 1 hour or until softened.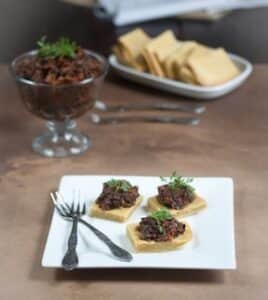 While the tomatoes are soaking, heat the olive oil in a medium-size frying pan. Add the onion, garlic, and 1⁄2 teaspoon of salt and sauté over medium-high heat until the onions are evenly browned and translucent, about 10 minutes.
Once the tomatoes have soaked, drain well and combine with the sautéed onions and black olives in a food processor. Add the additional sea salt and pulse until all ingredients are combined and the olives and tomatoes are very finely chopped.
Serve on top of flatbreads or gluten-free crackers with a garnish of fresh cilantro.
*This post contains affiliate links. If the product is purchased by linking through this review, VegKitchen receives a modest commission, which helps maintain our site and helps it to continue growing!