For many, baked beans are a must-have for any picnic or family get-together. In this sure-to-please recipe, tender navy beans are flavored with bits of onions and covered in a rich and tangy sauce enhanced with molasses. Traditionally, Boston baked beans are made by slowly cooking the sauce-covered beans in a low-temperature oven for several hours. Low temp … long hours — sound familiar? That's exactly what a slow cooker does! Reprinted with permission from The Complete Idiot's Guide® to Vegan Slow-cooking* by Beverly Bennett (Alpha Books, 2012). Photos by Evan Atlas.
Makes 8 to 9 cups
1 pound (about 21⁄4 cups) dried navy beans, sorted and rinsed
2 cups yellow onions, diced
3⁄4 cup ketchup
1⁄4 cup blackstrap molasses
1⁄4 cup light brown, muscovado, or other natural granulated sugar
2 tablespoons apple cider vinegar
1 tablespoons chili powder
1 tablespoons nutritional yeast
2 teaspoon dry mustard, or 2 tablespoons 

spicy brown or Dijon mustard

4 cups water
Sea salt and freshly ground pepper to taste
Hot pepper sauce (Sriracha or other)
Place beans in a large pot, and cover with water. Bring to a boil over high heat, and boil for 2 minutes. Cover, remove from heat, and set aside to soak for 1 hour. Drain navy beans in a colander, and discard soaking liquid.
In a medium or large slow cooker, combine yellow onions, presoaked navy beans, ketchup, blackstrap molasses, light brown sugar, apple cider vinegar, chili powder, nutritional yeast flakes, and dry mustard. Pour in water.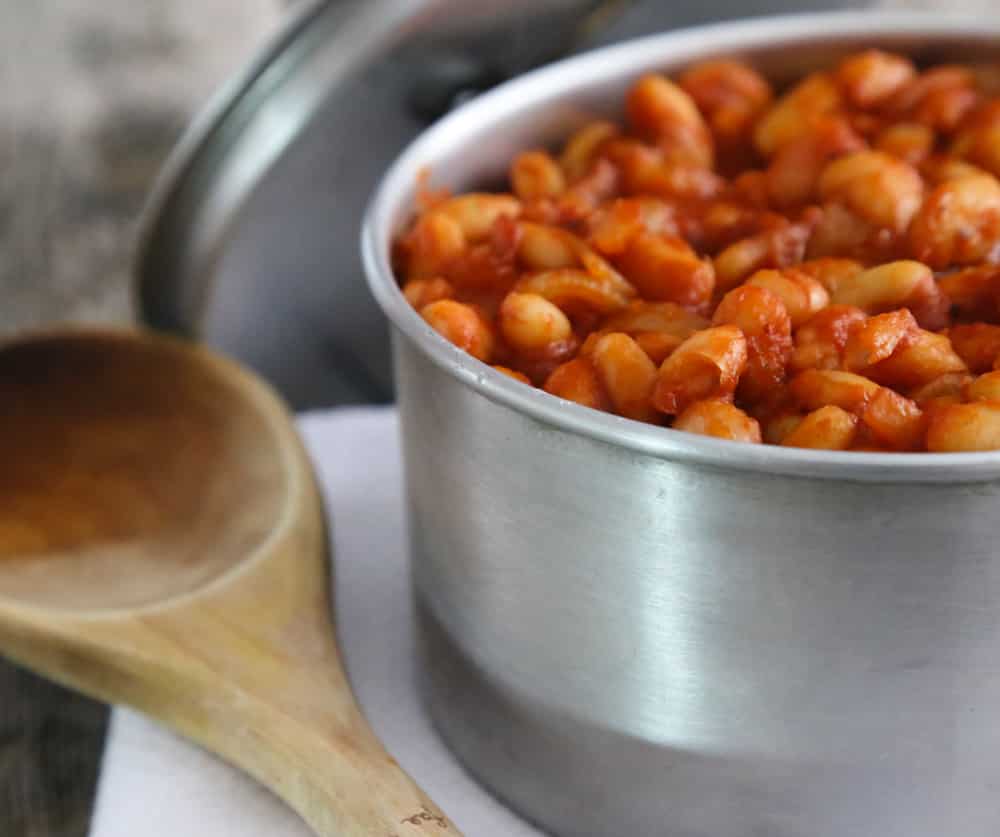 Cover and cook on low for 7 or 8 hours or until navy beans are tender.
Taste and season with sea salt, black pepper, and hot pepper sauce. Serve hot, cold, or at room temperature.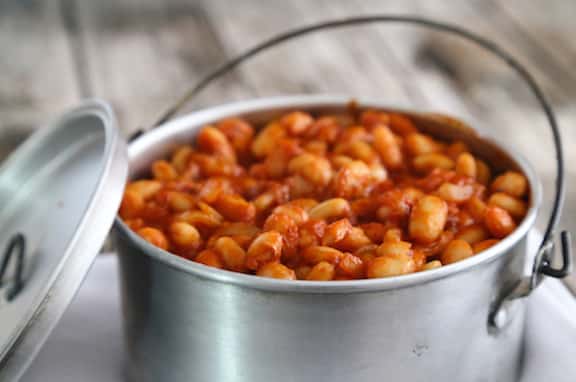 *This post contains affiliate links. If the product is purchased by linking through this review, VegKitchen receives a modest commission, which helps maintain our site and helps it to continue growing!