Using plenty of veggies makes this easy vegan broccoli pizza, embellished with mushrooms and sun-dried tomatoes, a nourishing meal. Serve a big salad with mixed greens and plenty of raw veggies, embellished with olives and chickpeas. Use as many of the shortcuts as you'd like, making this a super-quick preparation; I've provided from-scratch options for sauce and crust (even a gluten-free option!) for when you have more time.
Broccoli, Mushroom, and Sun-Dried Tomato Pizza
Serves: 3 to 4
Ingredients
2 ½ cups bite-sized broccoli florets
6 oz baby bella (aka cremini) or portobello mushrooms, cleaned (remove stems if desired) and sliced into bite-sized pieces
1 tbsp olive oil
1 (12- to 14-inch) good-quality pizza crust (or use the recipe for Basic Pizza Dough or Gluten-Free Poured Pizza Crust)
½ to 1 cup good-quality prepared marinara or pizza sauce (depending on size of crust and how tomato-y you like it, or homemade Fresh Tomato Marinara Sauce)
1 to 1 ½ cups vegan mozzarella cheese, grated (Daiya is great for this)
⅓ cup moist sun-dried tomatoes (oil-cured or not, as you prefer), thinly sliced
several basil leaves, thinly sliced, optional
Instructions
Preheat the oven to 425°F.
Line roasting pan with baking parchment or oil it lightly. Arrange the broccoli and mushrooms in it and drizzle with olive oil, stirring together. Bake for 5 minutes.
Place the crust on a pizza pan. spread the sauce evenly over it, followed by the cheese. Put in the oven, and when you do so, give the broccoli and mushroom mixture a stir and continue to let it roast while the pizza bakes.
Bake the pizza and veggies for 12 minutes longer. The bottom of the pizza crust should be golden and starting to get crisp, and the cheese melted. The veggies should be nicely done—starting to brown here and there.
Remove the pizza and vegetables from the oven. Cut the pizza into 6 wedges with a pizza wheel or sharp bread knife. Pile the vegetables onto the pizza, followed by the dried tomatoes and optional basil. Serve at once.
Variation: Make this a white pizza by replacing the red sauce with pureed silken tofu—you'll need about half of a 12.3 oz box.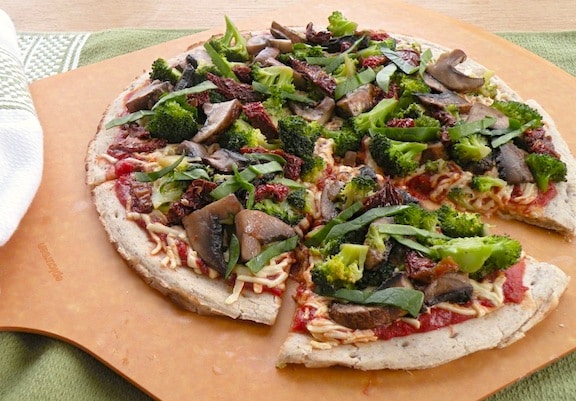 Nutritional Information:
Per Serving (does not include crust; Basic Pizza Dough has nutritional information): 276 calories; 22.6g fat; 636.4mg sodium; 271.3mg potassium; 15.9g carbs; 6.2g fiber; 3.8g sugar; 6.8g protein