When tomatoes are at their peak of flavor and abundance, this is a great sauce to make. I'm quite on board with prepared, organic marinara sauces in general, but there's really no comparison with making it from scratch with ripe tomatoes. Do this at leisure, as the process takes at least an hour. If you do any home canning, consider at least doubling this recipe and putting a few jars by for the winter! This sauce is perfect for pasta and pizza.  Makes about a quart (4 cups)
2 ½ to 3 pounds ripe, juicy tomatoes
1 tablespoon extra-virgin olive oil
1 large onion, chopped
6 to 8 cloves garlic, minced
6-ounce can tomato paste
¼ cup dry red or white wine (optional, but highly recommended)
½ cup vegetable broth or water
1 tablespoon natural granulated sugar
2 teaspoons Italian herb blend (or 1 teaspoon dried oregano,
½ teaspoon dried basil, and ½ teaspoon dried thyme
1 teaspoon sweet paprika
1 teaspoon salt
Freshly ground pepper to taste
Fresh basil leaves for garnish
Bring a large pot of water to a boil. Immerse the whole tomatoes, then remove from the heat and let stand for a minute or two. Remove the tomatoes. When they're cool enough to handle, slip the skins off. If you're feeling lazy, you can skip this step, especially if you'll be pureeing the sauce, but it's much nicer not to have all the skins in it.
Heat the oil in the same large pot. Add the onion and sauté over medium-low until translucent. Add the garlic and continue to sauté until the onion is golden and quite soft.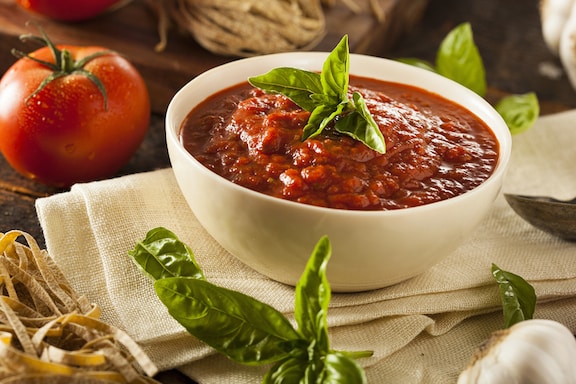 Meanwhile, coarsely chop the tomatoes. If you'd like, you can remove and discard some of the seeds. Add them to the pot along with the remaining ingredients and stir together.
Bring to a rapid simmer, then turn the heat to low and allow to simmer for 45 to 60 minutes, or until fragrant, thickened, and reduced.
Use an immersion blender to coarsely puree the sauce. Or, you can puree in batches in a food processor. Don't over-process; this is nice with some texture.
Serve hot over cooked pasta, or as a sauce for pizza; or any other recipe that calls for marinara sauce. Garnish whatever you're serving with fresh basil leaves as desired.