This homey pilaf is infinitely versatile. Instead of rice, you can make it with quinoa, wheat berries, or bulgur. You can also swap out the white beans for cooked lentils, black-eyed peas, or chopped seitan. Or add some heat with a minced jalapeño chile. Recipe from One-Dish Vegan © 2013 by Robin Robertson. Reprinted by permission of The Harvard Common Press.
Serves: 4 
1 tablespoon olive oil or 1/4 cup water
1 large sweet onion, chopped
3 garlic cloves, minced
8 ounces shiitake mushrooms,
stemmed and sliced (about 2 cups)
1 1/4 cups uncooked brown rice
2 cups vegetable broth
Salt and freshly ground black pepper
4 scallions, chopped
8 ounces fresh baby spinach
1 1/2 cups cooked or 15 to 16-ounce can white beans, drained and rinsed
1 tablespoon minced fresh dill or basil
Heat the oil or water in a large saucepan over medium heat. Add the onion and cook until soft, about 7 minutes. Add the garlic and mushrooms and cook about 3 minutes or until the mushrooms are tender.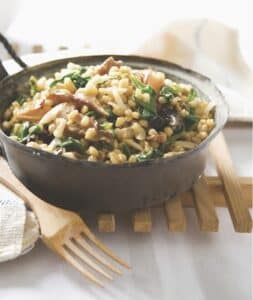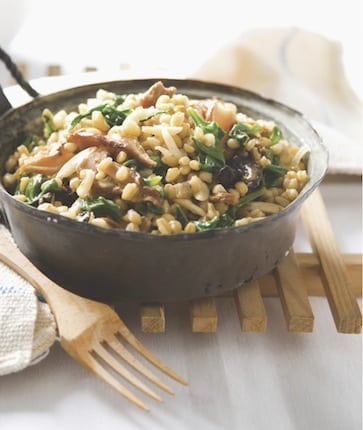 Stir in the rice and cook, stirring, for 1 to 2 minutes. Stir in the vegetable broth and bring to a boil. Reduce the heat, season with salt and pepper to taste, cover, and simmer for 35 minutes, stirring occasionally.
Uncover, and add the scallions and spinach, stirring until the spinach wilts. Stir in the beans and dill. Cook for 5 minutes longer, or until the broth is absorbed and the rice is tender. Taste and adjust the seasonings if needed. Serve hot.