This adaptation of a traditional Middle Eastern salad has a great combination of flavors and textures. I especially like it with Middle Eastern- or Spanish-themed meals; though it can be a nice foil for any mild-flavored dish, as well — try it with Pasta with Vegan Alfredo Sauce.
Serves: 4 to 6
One 15- to 16-ounce can chickpeas, drained and rinsed

1 ½ cups packed grated carrots (see note)

½ cup minced fresh parsley, or more, to taste

2 to 3 scallions, green parts only, thinly sliced

½ cup chopped green pimiento-stuffed olives




or sliced kalamata olives

Juice of ½ to 1 lemon, to taste

1 tablespoon extra-virgin olive oil

½ teaspoon ground cumin

Salt and freshly ground pepper to taste
Combine all ingredients in a serving container. Toss well and serve. If time allows, let the salad stand for 30 minutes or more, to allow the flavors to blend.
Note: For greater ease, use baby carrots, eliminating the need to peel and cut before grating. Even easier is using pre grated carrots, but make sure they're fresh and not dried out.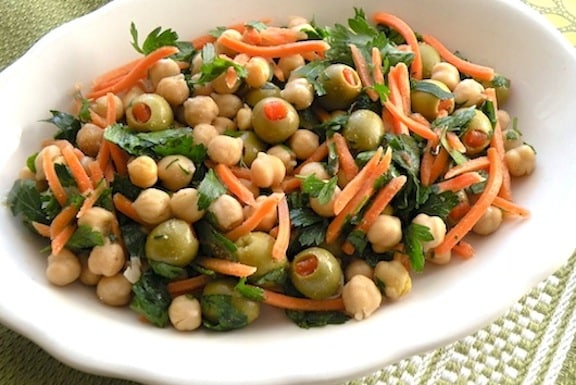 Nutrition Information: 
Per serving: 210 calories; 12g fat; 800mg sodium; 21g carbs; 7g fiber; 5g protein