Excerpted from Hot Vegan: 200 sultry & full-flavored recipes from around the world * by Robin Robertson/Andrews McMeel Publishing, LLC © 2014. Reprinted by permission. To put the "hot" in "hot and spicy," we generally look to chiles as the world's most universally popular heat source. Erroneously called chile "peppers," attributed to an error by Christopher Columbus, chiles are not peppers at all, but actually fruits. They are used in a wide variety of cuisines throughout the world in a variety of forms. You can buy them whole, fresh, dried, canned, and jarred in the form of chili oil, paste, and powder, as well as hot red pepper flakes and ground red pepper, or cayenne. Many hot condiments are made with chiles, and these include chili sauce, hot bean sauce, salsas, and various chutneys. Tabasco, a particularly popular brand of hot chili sauce, is in such wide use that it goes by its brand name.
With over a hundred varieties of chiles available, recipes calling for chiles can sometimes be confusing, especially since chiles range in heat from mildly sweet to searingly painful. Chiles are members of the capsicum family, and their heat is caused by the amount of capsaicin oil they produce, and customarily measured according to Scoville Heat Units (SHUs), a relative heat index named after Wilbur Scoville, the chemist who developed it in 1912. Here follows some of the most commonly available fresh chiles used in this book, their physical characteristics (lengths and widths are approximate), and their SHU order, ranging from the hottest (7) down to the most mild (0).

Habanero—(7) Extremely hot. Light green to bright orange. 3-inches long and 1-inch wide. Scotch Bonnets also clock in at (7).
Thai—(6) Extremely hot. Green to bright red. 2-inches long and ¼-inch wide. Dried Thai chiles are called "bird" chiles.
Cayenne—(5) Very hot. Bright red. Usually dried and ground to produce "cayenne pepper." 3- to 4-inches long and ½-inch wide.
Serrano—(4) Very hot. Deep green, bright red when ripe. 2-inches long and ³⁄8-inch wide.
Jalapeño—(3) Hot. Dark green. 2-inches long and ¾-inch wide. Dried, smoked jalapeños are known as chipotles and are deep red in color.
Poblano—(2) Mild to medium hot. Dark green, resembles a bell pepper. 4-inches long and 3-inches wide. Dried poblanos are anchos.
Anaheim—(1) Mild. Medium green in color. 6-inches long and 1-inch wide.
Bell Peppers—(0) Have no heat at all, and can be substituted in any recipe calling for hot chiles.

Veteran aficionados of hot food may enjoy exploring the vast world of chiles and experiment with different varieties. Chile purists would prefer to see specific names of chiles for particular uses. However, when you go to a supermarket, you may find a variety of chiles labeled simply "hot peppers." For those who don't know their serranos from their anchos, don't be discouraged. While I do call for a particular type of chile in certain recipes, I often refer to them simply as "hot" or "mild" chiles, and feel that most recipes will work just fine when one chile is swapped for another. For those who avoid heat of any kind, simply substitute sweet bell peppers for chiles, and you'll make a mild yet still flavorful dish. You may want to experiment, pick out some favorites, and stick with them.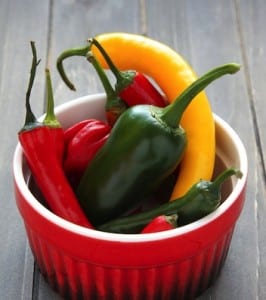 If a recipe calls for mild, dried chiles, anchos are a good choice. For hot dried chiles, try the cayenne or Thai bird chiles. Commercial chili powders are widely available with varying degrees of quality. They are usually a blend of ground dried chiles combined with other spices, such as cumin and oregano. Paprika, the Hungarian word for "sweet pepper," refers peppers. It can be labeled either "sweet" or "hot," depending on what parts of the pepper are used. When the seeds and membranes are included, or when hot varieties of chiles are also included, the result will be a "hot" paprika.
In the event that you need to make substitutions, use this list of approximate "heat" equivalents:
1 small, dried red chile =
1 tablespoon chili powder

½ teaspoon cayenne

½ teaspoon hot red pepper flakes

½ teaspoon hot chili paste

1 teaspoon Tabascoto the powder made from ground sweet
A Word of Caution
Anyone who has engaged in hand-to-chile combat can tell you that whenever you handle hot chiles, do it very carefully. The juice or flesh of a hot chile can burn on contact, and you don't want any part of it near your eyes. Try to wear rubber or disposable gloves when handling chiles, and, if that's not possible, be sure to wash any contacted areas immediately. Whatever you do, don't rub your eyes, or anyone else's, after handling chiles.
Visit Robin at RobinRobertson.com.
*This post contains affiliate links. If the product is purchased by linking through this review, VegKitchen receives a modest commission, which helps maintain our site and helps it to continue growing!