Chile peppers are an indispensable part of many ethnic cuisines that have become intrinsic to the healthy cook's home repertoire. Chilies are one of the most widely produced and utilized condiments in the world, after salt and black pepper.
Members of the capsicum genus, their flavors range from mild to sweet to explosively hot. There are hundreds of varieties, with inconsistent names and little standardization of labeling. Here are a few basic guidelines to help the curious chili lover:
In general, the smaller the pepper, the hotter it is. Large peppers are generally milder, though there are certain exceptions to that rule. To name a few common varieties, jalapeño, serrano, and cherry peppers are incendiary; Anaheim and poblano peppers are mildly hot to hot. Get to know the varieties your local market carries. Here are a few tips, plus a brief rundown on the aforementioned varieties:
When using whole chilies, whether fresh, canned, or frozen, remove the seeds before using. They taste extremely hot.
If you're going to be handling hot chilies to any great extent for a given recipe, for instance when peeling and chopping them after roasting, wear rubber gloves to prevent skin irritation.
Frozen chilies, available in Spanish and Mexican groceries, are generally very good and are more economical than canned chilies.
Canned green chilies (packaged in the Southwest and labeled according to their degree of hotness) are good, but those little 4-ounce cans are rather expensive, and the small portion may be frustrating for chili lovers.
Use pickled chili peppers for garnish purposes only. Red chili peppers are generally hotter than green chilies.
All chilies are rich in vitamins A and C. They're widely credited with having an ability to fight bacteria, and many cultures use them for medicinal purposes. Chilies are extensively used in Mexican, Native American, Indian, Indonesian, African, and Chinese cuisines.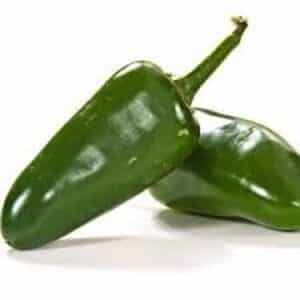 Jalapeño Peppers
Jalapeno peppers are green or red in color and are fairly to very hot—depending on each palate's definition of "hot." Red jalapeños are milder but still have a great warm taste and either color can be made milder by removing the vein and seeds, where most of the heat lives (this is true of most chilies). This chili pepper is extremely versatile and can be smoked or dried (chipotle), canned, pickled, frozen or roasted. They can be made into anything from jelly to poppers to sauces; and, of course, they make a great topping or garnish.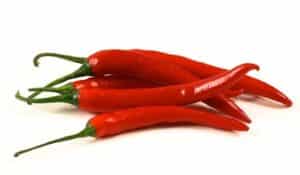 Serrano Peppers
Hotter than the jalapeno pepper, Serrano peppers are usually eaten raw for their crisp and intense flavor. When green and unripe, the flavor is much sweeter than that of a red, mature Serrano pepper. This chili pepper makes for a great tasting snack when pickled (especially with onions and carrots). Add it to soups, stews, sauces and salsas, after roasting, for a nice kick.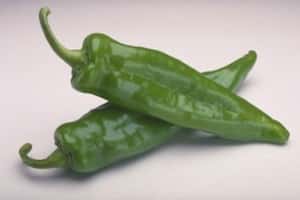 Anaheim Peppers
Anaheim peppers have a mild hotness, but depending on where they're grown and their maturity, they can be much hotter. The Anaheim's skin is tough but it should peel off with no trouble after being put over a flame followed by steaming for a couple minutes. Most chefs like to dice or puree this pepper to be added to salsas, sauces, soups, chilies or even sandwiches. The Anaheim is great for stuffing, too.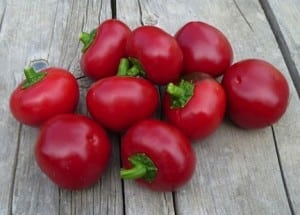 Cherry Peppers
Also known as pimento, cherry peppers are round with a sweet, juicy flavor. Depending on the many different varieties of this chili pepper, hotness ranges for mild to medium. When raw or pickled, the cherry pepper is not only visually pleasing, but it tastes great when topping a salad, pizza or pasta.
Poblano Peppers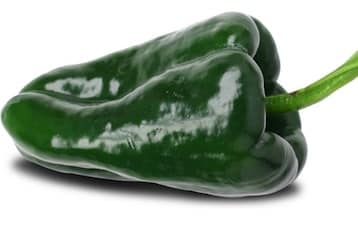 A perfect substitute for the Anaheim, the poblano pepper has a mild heat. This heart shaped chili, like most, is much hotter and intensely flavored when red and matured. The poblano can be enjoyed in many ways, stuffing is a favorite because of its size and thick walls. You can dry and fry them, as well as preserve by canning and freezing. When dried it is known as an 'ancho chili' and can be ground into a powder.