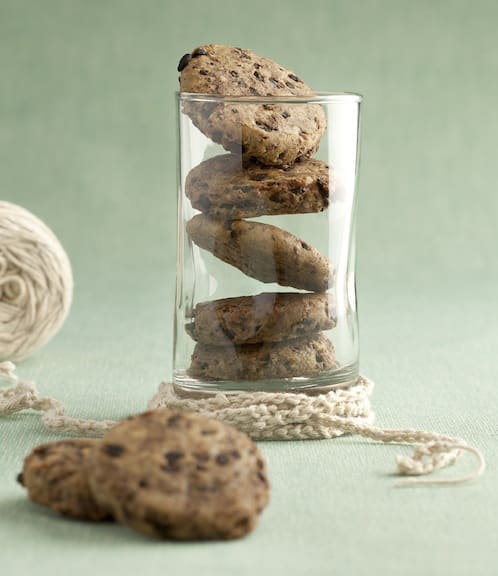 These rich-tasting, slightly chewy cookies come together quickly, for those times when you just need a snack pronto. Pumpkin seeds are a good source of zinc, involved in more body processes than any other mineral and important for healthy immune functioning. From Naturally Sweet and Gluten Free: Allergen-Friendly Vegan Desserts by Ricki Heller. Photo by Celine Saki. Reprinted by permission of Sellers Publishing, ©2013.
Makes: 1 dozen
⅓ cup coconut sugar
20 to 30 drops pure plain or vanilla stevia
¼ cup water
1 teaspoon pure vanilla extract
½ cup natural smooth pumpkin seed butter,
at room temperature
1⁄4 cup finely ground flax seeds
(from about 2 tablespoon whole seeds)
½ cup brown rice flour
⅛ teaspoon fine sea salt
¼ cup unsweetened carob chips or dairy-free
chocolate chips, coarsely chopped
Preheat the oven to 350º F.
Line a cookie sheet with parchment paper, or spray with nonstick spray.
In a small bowl, whisk together the coconut sugar, stevia, water, and vanilla until the sugar dissolves.
Add the pumpkin seed butter, flax, flour, and salt and mix well to form a very thick and sticky dough. Stir in the chips.
Using a heaping teaspoon, scoop the dough and roll it into small balls, placing them about one inch apart on the cookie sheet. Flatten slightly with your palm (or use a silicone spatula).
Bake for 10 to 12 minutes, rotating the sheet about halfway through, until the cookies are light golden brown (the dough will lighten as the cookies bake). Allow the cookies to cool completely before removing from the cookie sheet.
Store in an airtight container in the refrigerator for up to 5 days. It may also be frozen.