Fresh orange juice and finely minced orange zest are cooked with thick tahini (sesame paste) and  a small amount of agave syrup to make the liquid for this unusual chocolate truffle with a slightly chewy texture. While this truffle ganache is not perfectly smooth, the truffles taste very creamy, and the coating of lightly toasted black and naturally colored sesame seeds provides color and crunch. Note that raw tahini is sweeter than the roasted kind, but either can be used. From Vegan Chocolate: Unapologetically Luscious and Decadent Dairy Free Desserts by Fran Costigan © 2013, Running Press. Reprinted by permission. Photos by Kate Lewis.
Makes 20 to 24 (1-inch) truffles
4 ounces dark chocolate (70 to 72%), finely chopped
Finely minced zest of half a medium organic orange
3 tablespoons freshly squeezed orange juice
1⁄4 cup agave syrup
1 tablespoon raw or roasted tahini, stirred
1 ½  tablespoons natural sesame seeds, lightly toasted
1 ½ tablespoons black or white sesame seeds, lightly toasted
Put the chocolate into a small heatproof bowl. Mix the orange zest and juice and agave in a small saucepan. Cook over medium heat just to a boil. Reduce the heat to low and add the tahini, whisking vigorously. The mixture will thicken immediately. Do not be concerned if it looks broken or curdled. It will smooth out as you whisk. Simmer the mixture for 30 seconds until it is shiny and smooth. Remove from the heat. Wait about 30 seconds until the mixture is no longer steaming and pour it over the chocolate. Cover the bowl with a plate. Wait 1 minute and then stir until the chocolate is completely melted. Remember: the ganache will not be perfectly smooth. Cool to room temperature, stirring a few times with a silicone spatula. Spoon into a small shallow container and refrigerate uncovered for about 2 hours until the ganache is firm. The ganache can be covered and refrigerated at this point for up to 1 week.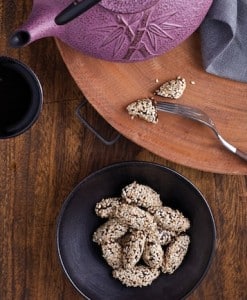 Make the truffle centers: Remove the ganache from the refrigerator. Use a spoon to scoop out 1-inch pieces of ganache and another to push the ganache off the spoon into the container. When half the ganache has been used, roll the pieces into logs about 1 inch long, washing and drying your hands as needed. (If at any time the ganache becomes too soft to shape, refrigerate until cold and proceed.) Cover and refrigerate the truffle centers for 15 to 25 minutes to set for before shaping and finishing with the sesame seed coating. Put the sesame seeds in a small bowl. Sprinkle about 2 tablespoons on the bottom of a shallow container. Put a few logs at a time into the bowl of sesame seeds and roll until lightly coated. Pinch the ends to form the oval quenelle shapes. Place the finished truffles in the refrigerator to set for 35 to 45 minutes.
*This post contains affiliate links. If the product is purchased by linking through this review, VegKitchen receives a modest commission, which helps maintain our site and helps it to continue growing!