My healthier recreation of rice crispy treats brought back childhood memories, without the sugar rush. Chia seeds and sesame seeds were added for an extra boost of nutrients. The cacao drizzle is totally optional, but highly recommended! This might be a bold statement, but these are my favorite sweet creation thus far! Recipe and photos contributed by Cristina Cavanaugh, from Begin Within Nutrition. 
Makes 12 to 16 squares
4 cups crisp brown rice cereal (I used One Degree
Veganic Sprouted Brown Rice Crisps; Barbara's
Brown Rice Crisps are also good)
¼ cup sesame seeds
3 tablespoons chia seeds
⅔ cup natural creamy peanut butter
⅓ cup coconut oil
⅓ cup pure maple syrup
1 teaspoon vanilla extract
Pinch of sea salt
Cacao Sauce (see recipe below)
Line a baking dish with parchment paper and set aside. (I used an 11 x 7 dish)
In a large bowl, combine rice cereal, sesame seeds and chia seeds.
Over low heat, gently melt and combine peanut butter, coconut oil, maple syrup,vanilla and sea salt.
Pour peanut butter mixture over brown rice mixture and stir until well combined.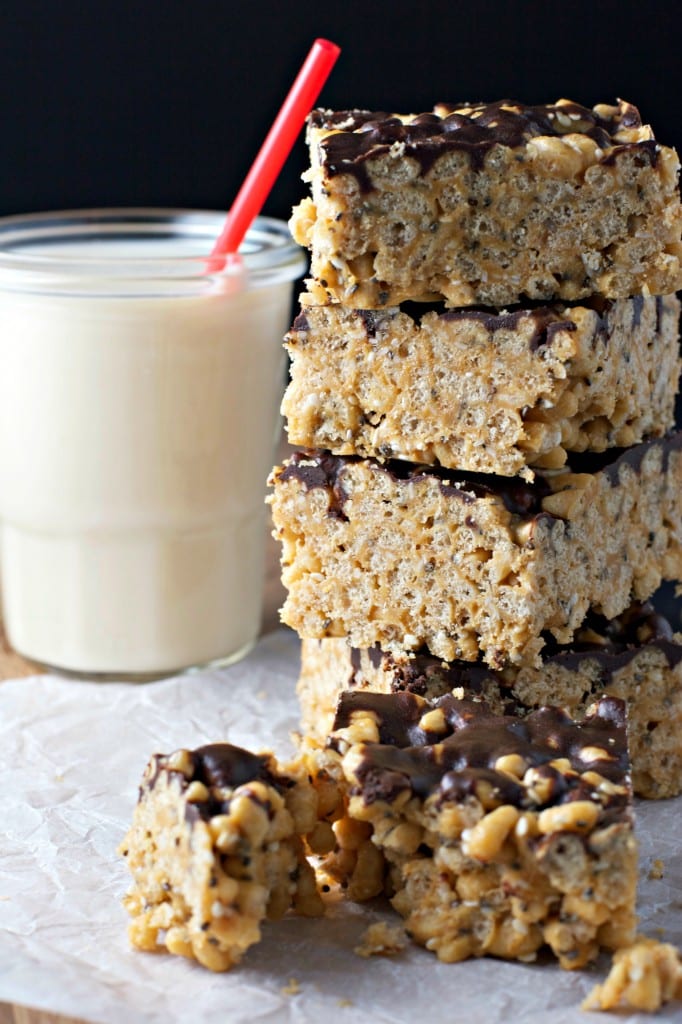 Transfer to lined baking dish and press down firmly. Option: Drizzle with cacao sauce or melted chocolate.
Place in freezer until set. Once set, slice using a large knife. Cut into small squares and store in an air-tight container in refrigerator or freezer. Store in freezer if you plan on packing in a lunch box to prevent getting too sticky.
To make Cacao Sauce: Whisk together: 4 tablespoons melted coconut oil, 3 tablespoons cacao powder, 2 tablespoons pure maple syrup, and a pinch of sea salt.
Nutritional Information:
Per serving: 216 calories; 17g carbs; 15g fat; 4g protein; 6mg sodium; 7g sugar