Leeks and potatoes are a classic soup duo. It's a match that's always mild and soothing. For an easy meal, serve this with veggie burgers on whole grain buns and a tomato salad. For maximum flavor, try this with Yukon gold potatoes.
Serves: 6
1 ½ tablespoons olive oil

3 to 4 medium-large leeks, white and palest green parts only,
chopped and very well rinsed

2 to 3 cloves garlic, minced

32-ounce carton low-sodium vegetable broth,
or 4 cups water with 2 vegetable bouillon cubes

6 large golden or russet potatoes, peeled and diced

1 to 2 cups unsweetened rice milk or
other nondairy milk, or as needed

Salt and freshly ground pepper to taste

¼ to ½ cup finely chopped fresh parsley, to taste
Heat the oil in a soup pot. Add the leeks and garlic and sauté over low heat, stirring often, until softened and just starting to turn golden, about 10 minutes. Remove about a cup's worth of the leeks to use as a garnish, and set aside.
Add the broth or water with bouillon cubes, and the potatoes, and bring to a slow boil. Turn the heat down, cover, and simmer gently until the potatoes are very tender, about 25 minutes.
Transfer the solids from the soup to a blender with a little of the liquid, and puree until fairly smooth. Don't overdo it; it's nice to have a little texture. Or, simply insert an immersion blender into the soup pot and puree until fairly smooth with a bit of texture.
Stir in enough rice milk to give the soup a medium-thick consistency. Stir in the parsley.
Return to the heat until well heated through, then season with salt and pepper. If time allows, let the soup to stand off the heat for an hour or two to develop flavor. Heat through as needed. Garnish each serving with a small amount of the reserved leeks.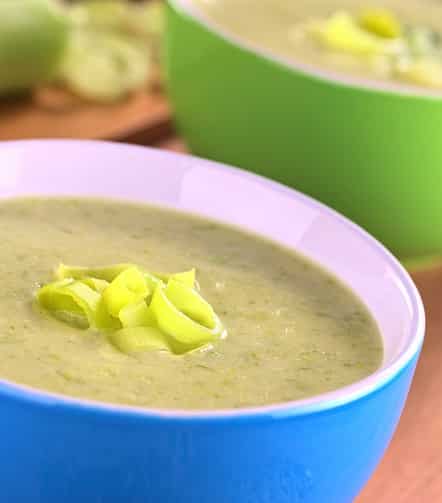 Try some of VegKitchen's other 

Soulful Soups.

Here are more recipes for 

onions, garlic, and leeks.