Here's the comforting classic, mushroom-barley soup. It's nothing fancy, but always so satisfying. Change it up by using different kinds of mushrooms. I like to use a combination of baby bella (aka cremini) and shiitakes. 
Serves: 6 to 8
1 ½ tablespoons olive oil
1 large onion, chopped
32-ounce carton low-sodium vegetable broth plus 2 cups water
or 6 cups water plus 2 vegetable bouillon cubes
2 large celery stalks, diced
3 medium carrot, thinly sliced
1 cup raw pearl barley
2 bay leaves
1 tablespoon all-purpose seasoning blend (such as Frontier or Mrs. Dash)
10 to 12 ounces mushrooms, any variety, sliced (see note)
2 cups unsweetened rice milk or other neutral nondairy milk,
more or less as needed
Salt and freshly ground pepper to taste
¼ cup minced fresh parsley, or more, to taste
2 tablespoons minced fresh dill, or more, to taste
Heat the oil in a soup pot. Add the onion and sauté over medium heat until golden.
Add the broth and water (or water with bouillon cubes), followed by the celery, carrot, barley, bay leaves, and seasoning blend. Bring to a slow boil, then cover and simmer gently for 30 minutes.
Add the mushrooms and 1 cup water. Simmer for 20 to 30 minutes longer, or until the barley and vegetables are tender.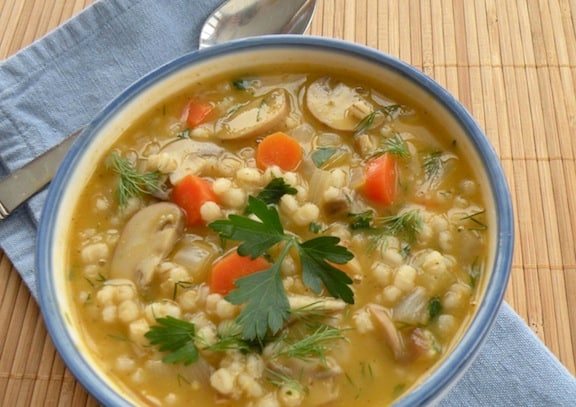 Stir in enough rice milk to give the soup a slightly dense consistency. Season with salt and pepper and stir in the parsley and dill.
Allow the soup to stand for 30 minutes or longer off the heat before serving. The soup thickens very quickly, so just before serving, thin as need with more water, then add more salt and pepper as needed and heat through. Do the same with refrigerated leftovers.
Note: Use any of white, baby bella, cremini, shiitake, or oyster mushrooms, or a combination.
Nutritional Information:
Per serving: 169.5 calories; 3.4g fat; 108.9mg sodium; 327.1mg potassium; 30.4g carbs; 6.9g fiber; 2.1g sugar; 4.8g protein