These cookies will make you believe in magic because they'll disappear right before your eyes! There are few things I absolutely can't resist, and these cookies are one of them. The combination of coconut, toasted almonds, and raspberry jam is hard to beat. I make them with homemade raspberry jam from our raspberry bushes, which makes them extra special, but any high-quality jam will be almost as delicious. They are wonderful still warm from the oven, but be sure to let them cool for fifteen minutes so you don't burn your mouth on the hot jam. The flavor is best when they've cooled completely. Recipe contributed by Myra Goodman and Marea Goodman, from Straight from the Earth* © 2014. Photos by Sara Remington. Reprinted by permission of Chronicle Books.
Makes 15 cookies
1 tablespoon ground flaxseed
2 tablespoon very hot water (about 180°F)
½ cup melted coconut oil
½ cup sugar
1 cup whole-wheat pastry flour
¾ teaspoon baking powder
¼ teaspoon salt
¼ cup raw, unsalted almonds, lightly toasted and finely chopped
½ cup unsweetened shredded coconut
5 tablespoon raspberry jam
Position a rack in the middle of the oven and preheat it to 325°F. Lightly grease a baking sheet and set aside.
In a large mixing bowl, combine the flaxseed with the hot water. Allow to sit for 5 to 10 minutes until it thickens (this is our egg substitute). Whisk in the oil and sugar.
In a medium bowl, whisk together the flour, baking powder, and salt. Stir the flour mixture into the wet ingredients until just combined, then fold in the nuts and coconut. The mixture will be dry and crumbly but will hold together when squeezed.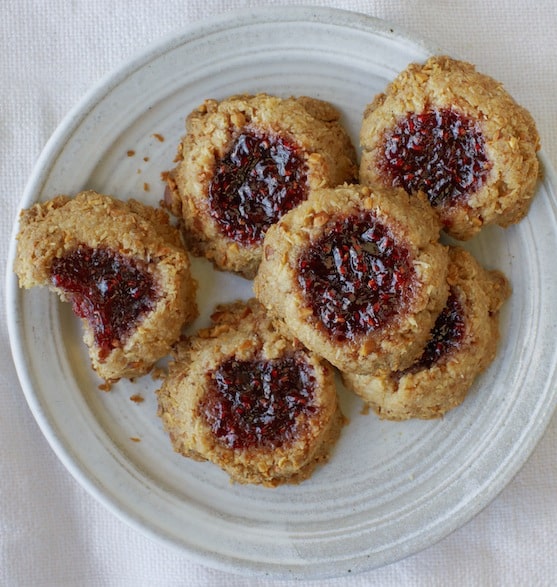 Using a tablespoon measure, scoop out 15 slightly heaping tablespoons of dough and roll them into balls. Place the balls on the prepared baking sheet and press down until they are about 2 inches wide and ⅓ inches thick, pressing the sides together to keep them from breaking apart. Using your thumbs, press indentations in the center of each cookie that are big enough to hold 1 teaspoon jam, repairing any big cracks as you go. Fill each indentation with jam.
Bake until the cookies are golden brown, 15 to 20 minutes. Transfer the baking sheet to a wire rack and let the cookies cool for a few minutes before transferring them directly onto the rack to cool completely. The cookies can be stored in an airtight container at room temperature for up to 1 week.
*This post contains affiliate links. If the product is purchased by linking through this review, VegKitchen receives a modest commission, which helps maintain our site and helps it to continue growing!