This coconut-curry spread, based on chickpeas and cannellini beans is rich with spices and coconut. Aside from serving it in romaine leaves as suggested in this recipe, you can find many other uses for it — it makes a great dip but it's even better as a sandwich spread. Recipe and photo contributed by Annie Oliverio of An Unrefined Vegan. Annie is the author of the forthcoming Crave Eat Heal: Plant-based, Whole-food Recipes to Satisfy Every Craving * (April, 2015).

Makes a boatload
For the coconut-curry chickpea white bean spread:

15-ounce can chickpeas, rinsed and drained
15-ounce can cannellini beans, rinsed and drained
1/4 cup + 1 tablespoon coconut milk
1/4 cup unsweetened, shredded coconut soaked for a few hours in 1/2 cup water (do not drain)
1 tablespoon tamari or soy sauce
1 teaspoon maple syrup
Juice of 1 lime
1 heaping tbsp. tahini
2 cloves garlic
1 jalapeno pepper, deseeded
1 teaspoon dried onion flakes
1/2-inch piece ginger, peeled and roughly chopped
1/2 teaspoon turmeric
1/2 teaspoon ground ginger
1/4 teaspoon cumin
2 teaspoons curry powder
To serve:
Big handful of fresh cilantro
Big, fresh romaine lettuce leaves, as needed
Shredded carrot
Shredded zucchini
Sliced English cucumber
Pickled ginger
Sesame seeds
In a food processor, combine all of the ingredients for the coconut-curry chickpea-white bean spread and process until smooth.
The flavor of this spread develops over time so it's best to make this ahead and store in the refrigerator for a few hours. It has a bit of a kick to it, so lessen the amount of jalapeno if you like.
When ready to serve, generously coat the lettuce with the coconut curry spread and top with the carrot, zucchini, cucumber, ginger and sesame seeds.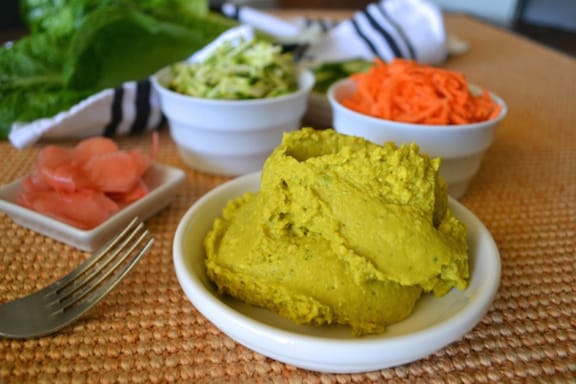 *This post contains affiliate links. If the product is purchased by linking through this review, VegKitchen receives a modest commission, which helps maintain our site and helps it to continue growing!