Here's an almost-no-cook (actually completely no-cook if you like raw corn) soup that's perfect for warm weather meals. Lettuces are abundant in gardens and in farm markets, and if you find yourself with too many heads, this soup will take two of them off your hands and out of your fridge! Fresh corn pairs perfectly with the lettuce in this mildly curried, refreshing chilled soup. Photos by Evan Atlas.
Serves: 6 to 8
Two medium-small heads lettuce (see note)
15-ounce can lite coconut milk
12.3-ounce container firm silken tofu, or one 15-ounce can cannellini
(large white) beans, drained and rinsed
1 to 2 teaspoons good-quality curry powder, to taste
2 medium to large ears corn, lightly cooked or raw
¼ cup fresh cilantro or parsley leaves
Several leaves fresh basil or mint, thinly sliced, optional
2 scallions, thinly sliced (plus extra for garnish if you'd like)
Juice of 1 lime or lemon, or more, to taste
Dried hot red pepper flakes to taste (plus extra for garnish, optional)
1 to 2 cups unsweetened nondairy milk, as needed for a medium-thick consistency
Salt and freshly ground pepper to taste
Roughly chop one of the heads of (cleaned) lettuce and place in a food processor or blender. Cut the other head into short, narrow ribbons and set aside.
Add the coconut milk, tofu or beans, and curry to the food processor or blender. Process with the lettuce until completely smooth and creamy. Transfer to a serving container.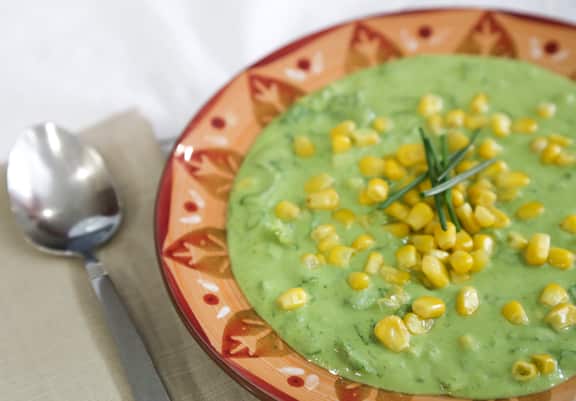 Strip the corn kernels off the cobs but standing them up on the flat and and cutting with downward slices with a sharp knife. With your fingers, separate the kernels that cling together.
Add the corn kernels to the soup along with the remaining ingredients, including the reserved lettuce. Stir together, cover, and refrigerate for two or more hours, to allow the soup to chill thoroughly and for the flavors to blend.
Before serving, taste and see if you'd like more lime juice, more red pepper flakes, and adjust the salt and pepper. If you'd like a less dense soup, adjust the consistency with more rice mild as well.
Serve cold with an added garnish of scallion and/or red pepper flakes.
Note: Use any sort of mild lettuce — romaine, bibb, Boston green leaf, etc. I especially like Romaine in this, since it adds a nice crunchy quality to the soup.