This cold linguine salad features vibrant flavors provided by artichoke hearts, roasted peppers, artichoke hearts, sun-dried tomatoes, and lots of fresh parsley. It will hold up well on hot days or when being transported to a potluck. If you prefer to have it warm, by all means, do so. Simply skip the step of rinsing the pasta in cool water and use it straight after it's been drained. For a complete meal, serve with a simple chickpea salad. Photos by Hannah Kaminsky.
Serves: 4 to 6
8 to 10 ounces linguine pasta, preferably whole grain
12-ounce jar roasted red peppers, drained
8- to 12-ounce jar marinated artichoke hearts (reserve liquid), quartered
¼ cup rehydrated or oil-cured sun-dried tomatoes
½ cup parsley leaves, chopped
2 medium carrots, thinly sliced
2 medium firm, ripe tomatoes, diced
2 tablespoons extra-virgin olive oil
2 tablespoons white or red wine vinegar
Salt and freshly ground pepper to taste
Cook the linguine in rapidly simmering water until al dente. Drain and rinse under cold water until cool.
Meanwhile, combine the red peppers and artichokes, their liquids, the sun-dried tomatoes, and parsley in a food processor. Pulse on an off until the mixture is coarsely and evenly chopped.
In a serving bowl, combine the red pepper and artichoke mixture with the linguine in a serving container and toss. Add the carrots, tomatoes, and vinegar. Season with salt and pepper and toss again.
If the mixture seems a bit dry, add a little of the reserved liquid from the artichokes. Serve at once.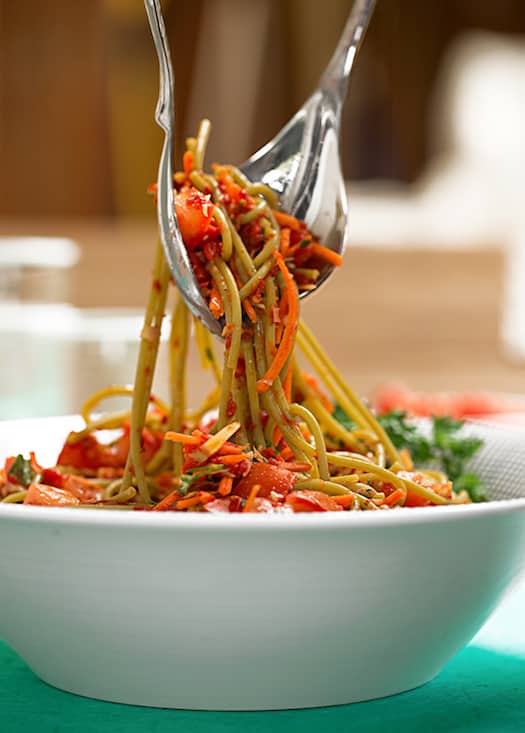 This is a great dish for potlucks and picnics!