Here's an easy rendition of peanut butter noodles, with a dollop of tahini and a dash of spice. Delicious as a summer dinner served with an easy tofu dish and a simple salad of tomatoes, cucumbers, and basil. Photos by Hannah Kaminsky of Bittersweet.
Serves : 4 to 6
8 to 10 ounces long noodles
(soba, udon, or rice noodles)
Sauce:
⅓ cup creamy natural peanut butter
2 to 3 tablespoons sesame tahini, to taste
¼ cup water
¼ cup lime juice
¼ cup agave nectar
3 tablespoons reduced-sodium soy sauce, or to taste
Sriracha sauce or other hot sauce, or dried hot red pepper flakes, optional
Veggie topping:
2 teaspoons dark sesame oil
2 to 3 cloves garlic, minced
2 to 3 scallions, thinly sliced
3 to 4 cups chopped fresh veggies of your choice (broccoli, zucchini, bell peppers, celery, bok choy, leafy greens, green beans, carrots — here's your chance to clean out the crisper!)
Chopped fresh cilantro, optional
Cook the noodles according to package directions until al dente, then drain and rinse under cool running water in a colander until they're at room temperature, then drain well again. Transfer to a serving container.
Meanwhile, combine the sauce ingredients in a mixing bowl and whisk together. If the mixture is too hard to whisk, add a little more water. This will depend on the density of the nut butter. Go easy on the hot stuff — you can always pass around extra for those who like more heat. Pour the sauce over the cooked and drained noodles and toss together.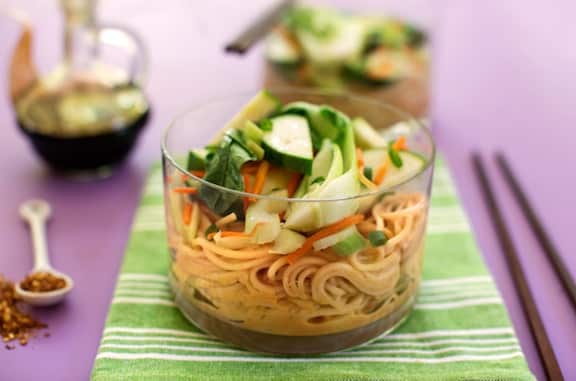 Heat the oil in a skillet or stir-fry pan. Add the garlic and sauté over low heat until golden. Add the scallions and vegetables and turn the heat up. Stir-fry until bright green and just barely tender-crisp — since this is a cold dish, you want to get them just past raw; barely even tender crisp. Stir in the optional cilantro and remove from the heat.
Pass around the noodles followed by the veggies to top them with. Pass around extra hot sauce and/or soy sauce.
Nutritional Information:
Per serving (made with broccoli, zucchini, bell peppers, and mushrooms): 242.5 calories; 12.2g fat; 369.5mg sodium; 243mg potassium; 27.8g carbs; 3.3g fiber; 12.4g sugar; 8.1g protein