This composed salad featuring quinoa and red beans looks fancy enough to impress company, but it's super-easy to prepare for an everyday meal. You can use regular, red, or black quinoa, or a combination. Serve with some seasonal roasted veggies (squashes, Brussels sprouts, roots, etc.) and/or a warming soup. Or keep it  simple and just serve with baked or microwaved sweet potatoes.
Serves: 6
Quinoa-corn salad:
1 cup quinoa, well-rinsed (use regular, red,
or black quinoa, or a combination of two or all three)
1 cup cooked fresh or frozen corn kernels
Juice of 1 lemon
2 to 3 scallions, minced
1 tablespoon extra-virgin olive oil
½ to 1 teaspoon ground cumin, to taste
Salt and freshly ground pepper to taste
Bean salad:
1 ½ cups cooked or canned pinto, kidney or Anasazi beans
1 heaping cup finely diced ripe tomatoes
½ medium avocado, diced, optional
(if using, toss with a little lemon juice to prevent browning)
1 tablespoon balsamic or cider vinegar
¼ cup minced fresh parsley or cilantro
Salt and freshly ground pepper to taste
Garnish:
Pumpkin seeds
Black olives
Red pepper or pimientos, cut into narrow strips about 1 ½ inches long
Quinoa-Corn Salad: Bring 2 cups water to a boil in small, saucepan. Add quinoa and simmer gently, covered, for 15 minutes. Fluff with a fork, then let cool to room temperature. Transfer to a mixing bowl and combine with remaining ingredients.
Bean Salad: In a separate bowl, combine all ingredients and toss together.
To assemble: Transfer quinoa-corn salad onto the center of a large platter. Make a well in the center about 6 inches in diameter. Mound bean salad into it, and sprinkle with pumpkin seeds. Arrange olives and strips of bell pepper  atop the ring of quinoa.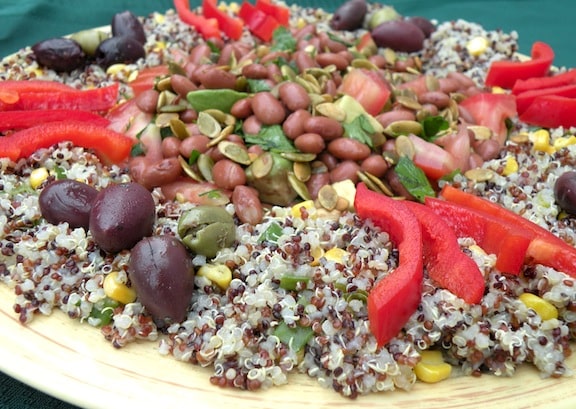 Here are more: