This delicate leek and asparagus soup tastes even better if made a day ahead. It's a light first course for festive spring holiday meals (Easter or Passover), or as an everyday kind of soup served with sandwiches or wraps.
Serves: 6 to 8
2 tablespoons olive oil
1 large onion, chopped
2 large celery stalks, diced
1 ½ pounds slender asparagus
6 medium or 4 large leeks, white and palest
green parts only, chopped and well rinsed
2 medium potatoes, peeled and finely diced
32-ounce carton low-sodium vegetable broth
1 tablespoon no-salt herb-and-spice seasoning blend
(such as Mrs. Dash or Frontier)
¼ cup chopped fresh parsley
1 to 1 ½ cups plain unsweetened nondairy milk, or as needed
Salt and freshly ground pepper to taste
Heat the oil in a large soup pot. Add the onions and celery and sauté over medium heat until the onions are golden.
Trim about 1 inch from the bottoms of the asparagus stalks and cut them into 2-inch pieces. Set aside the tips. Add the asparagus pieces to the soup pot along with the leeks, potatoes, dried herbs, and vegetable broth.
Bring to a gentle boil, then lower heat, cover, and simmer until the vegetables are tender, about 20 to 25 minutes.
Puree the soup in batches and return to the soup pot. Or, simply insert an immersion blender into the pot and puree.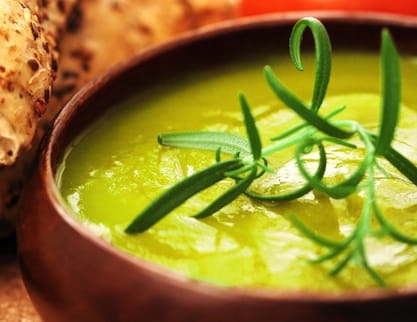 Return to low heat. Stir in the parsley. Add enough nondairy milk to give the soup a slightly thick consistency. Season with salt and pepper.
Simmer over very low heat for 10 minutes longer. If time allows, let the soup stand for several hours off the heat, or, if making ahead, let cool and refrigerate until needed.
Just before serving, steam the reserved asparagus tips until bright green and tender-crisp. Stir into the soup, adjust the seasonings, and serve.
Nutrition information
Per serving: Calories: 168;  Total fat: 3g;  Protein: 5g; Carbs: 30g; Sodium: 61mg
Here are more recipes for:
onions, garlic, and leeks