Need a little treat? Pineapple ice cream with a dusting of shredded coconut and cacao nibs satisfies any sweet tooth…without the fat and processed sugar! Three basic ingredients, all pure foods, whipped up into a creamy frozen dessert that couldn't be easier to make. Recipe and photo  contributed by Cristina Cavanaugh, from Begin Within Nutrition.

Makes 1 serving
2 cups pineapple chunks (preferably fresh; otherwise use
drained unsweetened canned pineapple (reserve juice for other use)
1 cup vanilla nondairy milk
1 tablespoon use maple syrup or agave nectar, or to taste
Shredded coconut flakes for topping, optional
Cacao nibs for topping, optional
Freeze the pineapple for several hours or overnight, until completely frozen.
Combine the pineapple, nondairy milk, and sweetener in a food processor and blend until the mixture has a smooth ice cream consistency is formed. You can also use the frozen dessert setting on a high-speed blender like Vitamix or Blendtec.
Top with shredded coconut flakes and cacao nibs, if you'd like.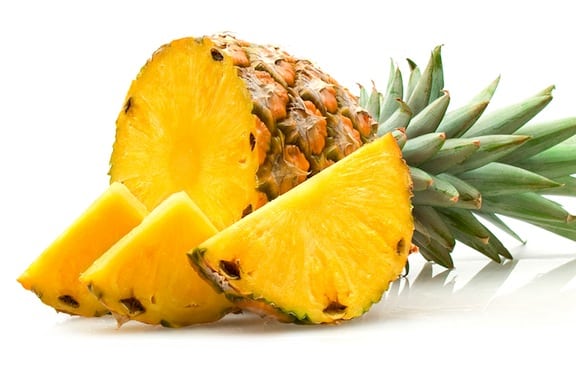 Nutritional Information:
Per serving (with the optional coconut flakes and cacao nibs): 449 calories; 86g of carbs; 15g of fat; 8g of protein; 126mg of sodium; 46g of sugar