Cooking pasta for a cold salad is radically different from cooking pasta for a hot dish. Going against the grain, you cook it not to al dente, but to tenderness. Overcooking it will leave you with a soggy mess instead of a salad, and undercooking it will produce hard-as-nails pasta once cool. Cooking the pasta just right will render this a perfect American staple.
And being vegan doesn't mean you have to miss out on delicious, creamy macaroni salads. This recipe uses vegan mayonnaise to keep it dairy-free. Use gluten-free pasta to make it gluten-free.
Recipe and photo from Everyday Vegan Eats* by Zsu Dever © 2014, reprinted by permission of Vegan Heritage Press.
Creamy Vegan Macaroni Salad
Serves: 4
Ingredients
8 oz elbow macaroni (use whole grain or gluten-free if you'd like)
¾ cup vegan mayonnaise
1 tbsp fresh lemon juice
1 tsp Dijon mustard
1 celery stalk, minced
¼ medium red bell pepper, cut into ¼-inch dice
2 tbsp minced red onion
2 tbsp minced parsley
2 tbsp sweet pickle relish
salt and freshly ground pepper, to taste
Instructions
Cook the pasta in a large pot of boiling salted water until just tender. Drain well and transfer to a large baking dish to cool. Stir gently every few minutes to cool it faster. Once it is cool, transfer the pasta to a large bowl.
In a small bowl, combine the mayonnaise, lemon juice, and mustard and mix well. Add ½ cup to the pasta and set aside the remaining dressing.
Stir in the celery, bell pepper, onion, parsley, and relish. Season with salt and black pepper.
Chill the pasta salad in the  refrigerator for an hour to meld the flavors. Stir the remaining dressing into the pasta salad before serving. Taste and adjust seasoning.
VARIATION: Tex-Mex Macaroni Salad. Replace the lemon juice with lime juice. Replace the mustard with 2 teaspoons of chipotle adobo puree. Reduce the celery to ½ celery rib. Replace the parsley with cilantro. Stir in ¾ cup roasted corn kernels.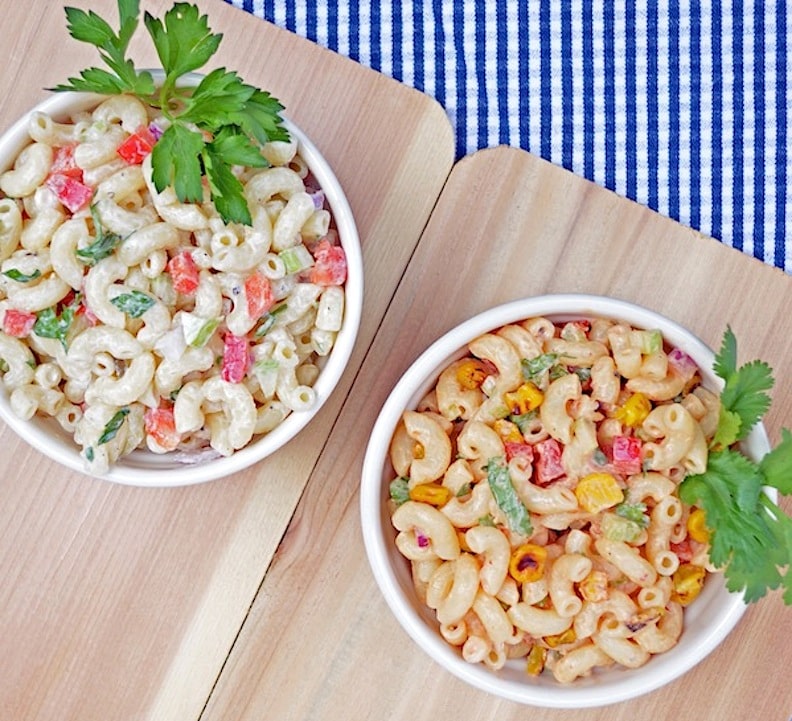 Nutritional Information: 480 calories; 27g fat; 348.7mg sodium; 119mg potassium; 50g carbs; 6g fiber; 3g sugar; 6.5g sugar
*This post contains affiliate links. If the product is purchased by linking through this review, VegKitchen receives a modest commission, which helps maintain our site and helps it to continue growing!