This tasty, creamy zucchini soup easy to prepare. Use smaller zucchini, as they're more flavorful than large ones. It's a perfect soup for late summer, when zucchini are in abundance. This is good served hot or chilled.
Serves: 6
1 tablespoon olive oil
1 medium onion, finely chopped
2 to 3 cloves garlic, minced
2 pounds zucchini (about 6 medium-small), diced,
about 1 cup reserved for garnish
32-ounce container vegetable broth
12.3-ounce container firm silken tofu, coarsely crumbled,
or one 15-to 16 ounce can white beans (cannellini or Great Northern)
drained and rinsed
2 tablespoons minced fresh dill
Juice of ½ lemon, or to taste
Salt and freshly ground pepper to taste
Garnish:
Reserved zucchini dice (see above)
1 medium-small yellow summer squash, quartered lengthwise,
seeds trimmed away, and diced
A few small sprigs fresh dill, as desired
Heat the oil in a soup pot. Add the onion and sauté over medium heat until golden. Add the garlic and sauté for another minute or so.
Add the zucchini and continue to sauté, stirring occasionally, about 5 to 7 minutes. Add the broth and bring to a simmer. Cover and simmer gently until the zucchini is tender, about 5 minutes. Add the silken tofu or beans to the soup pot.
If you have an immersion blender, simply insert the immersion blender into the pot and process until the mixture is as smooth as you'd like; you can leave a little texture if you prefer.
If you're going to puree this in a food processor or blender, transfer the solids from the soup pot (in batches if need be) and puree until smooth or leave a bit of texture. Transfer back to the soup pot.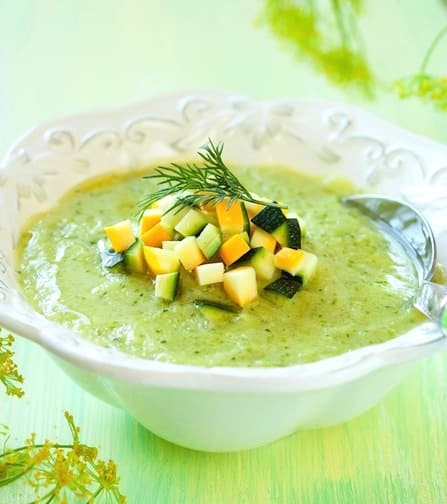 Stir in the dill and lemon juice and season with salt and pepper. If time allows, cover and let stand off the heat for an hour or so before serving. Adjust the consistency with a little water if too thick, then adjust the seasonings. Heat through as needed, reheat slowly without boiling. Or, if you'd like to serve chilled, let the soup cool to room temperature, then refrigerate until chilled.
For the garnish, steam the reserved zucchini plus the  yellow squash in a small saucepan with just enough water to keep the pan moist, just until tender-crisp. Top each serving of soup with a spoonful or two of this mixture, along with a sprig or two of fresh dill.