Making these addictive fries using polenta (cooked cornmeal) is super easy. You need to plan ahead to allow the cooked polenta to completely solidify in the fridge — a few hours or overnight. Use as an appetizer or side dish. Polenta is completely gluten-free, and though it's a traditional Italian food, it goes with any kind of meal. Thanks to Colavita for the quick-cooking, super-smooth Instant Polenta used in this recipe, as well as the fruity olive oil and hot pepper spread we used to embellish the fries. Photos by Evan Atlas.
Recipe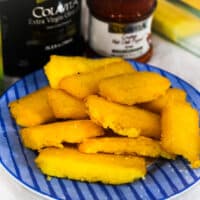 Crispy Polenta Fries
Making these addictive fries using polenta (cooked cornmeal) is super easy.
Print
Pin
Rate
Email
Ingredients
1

cup

yellow cornmeal

or quick-cooking polenta

½

teaspoon

salt

Olive oil or neutral vegetable oil

Freshly ground pepper

Italian herb seasoning

optional

Marinara sauce

dried tomato tapenade, or hot chile pepper sauce
Instructions
Bring 4 cups of water in a large, deep saucepan bring to a rapid simmer.

Stir in the salt. Turn the heat down to low. Pour the cornmeal in slowly, whisking as you pour it in to make sure no lumps form.

Simmer over very low heat for 15 to 20 minutes (or, quick-cooking polenta only takes about 3 minutes) Whisk occasionally. The polenta should be smooth and thick. If the polenta is spattering while being cooked, cover with a lid, keeping it ajar.

When the polenta is done, pour it into a lightly oiled 9 by 13 inch casserole dish and smooth it out as evenly as possible. When it cools off a bit, put the dish in the refrigerator and let it sit for a few hours or overnight.

Cut the polenta into pieces about 1 inch by 3 inches. You can also do little squares if you prefer.

To cook in a skillet: This is best done in a skillet that doesn't stick. Heat some oil, just enough to give your skillet a good coating, but it doesn't need to be deep. When hot (don't overheat olive oil if you're using it, just to medium-high). Arrange the polenta fries in a single layer. You'll probably need to do two batches.

Cook over medium heat until crispy on the first side, about 10 minutes, then carefully flip to the other side and cook for 10 minutes longer. Remove to a paper towel-lined plate.

To bake in the over: Preheat the oven to 425º F. Arrange the polenta fries on a parchment-lined baking sheet in a single layer. Spray with olive oil cooking spray if you'd like them to crisp up nicely. Bake for 20 minutes, then take the pan out for a moment and move the fries around a bit with a spatula to make sure they're not sticking. Place back in the oven and bake for 20 minutes more, or until nice and crisp on the outside. Remove to a plate.

Whether you've pan-sautéed or baked them, sprinkle with pepper and the optional herb seasoning. Serve at once with any of the sauces suggested.
Nutrition
Calories:
153
kcal
|
Carbohydrates:
29
g
|
Protein:
4
g
|
Fat:
2
g
|
Saturated Fat:
1
g
|
Polyunsaturated Fat:
1
g
|
Monounsaturated Fat:
1
g
|
Sodium:
292
mg
|
Potassium:
128
mg
|
Fiber:
4
g
|
Sugar:
1
g
|
Calcium:
3
mg
|
Iron:
1
mg
Vegan-ize any recipe!
Grab our free vegan cheat sheet, packed with my favorite easy substitutions to make any recipe vegan.
-