The combination of flavors in this salty peanut butter chocolate tart are familiar and crowd-pleasing. It's also packed with lots of good nutrition from the oats, peanuts, and cacao. This is an impressive dessert to take to a party because unlike other tarts that may be messy to serve, this one has a thick peanut butter and oat crust that holds its shape. A dark chocolate filling and a sprinkling of flaky salt bring it over the top. We usually cut the tart into bars, but it can also be cut into triangle wedges and eaten like a New York–style slice (of pizza, that is!).
From Chocolate Every Day: 85+ Plant-Based Recipes for Cacao Treats that Support Your Health and Well-Being by Bennett Coffey and Kyleen Keenan, Copyright © 2018. Published by Avery, an imprint of Penguin Publishing Group, a division of Penguin Random House, LLC, reprinted by permission.
Makes: One 14- by 4-inch tart
For the crust
6

tablespoons

un

r

e

f

ined vi

r

gin coconut

oil,

melted,

plus

mo

r

e for

g

r

easing

the

pan

1½

cups

oat

flour

1

cup old-fashioned

r

olled

oats

⅔

cup coconut

palm

sugar

1

teaspoon

sea

salt

½

cup

crunc

h

y

peanut

butter

2

tablespoons

almond

milk
For the chocolate filling
½

cup pu

r

e

maple

syrup

½

cup coconut

c

r

eam

1

cup

r

a

w

cacao

powder

1

teaspoon

flaky

sea

salt, or as desired
Make the crust: Position a rack in the middle of the oven and preheat to 350°F. Grease a 14 x 4-inch rectangular tart pan with removable bottom with oil. Set aside.
In a large bowl, stir together the oat flour, oats, sugar, and salt. Add the coconut oil, peanut butter, and milk and stir well to combine. The dough should be thick and sticky. Turn the dough out into the tart pan and press evenly along the bottom and up the sides. The crust should be thick.
Prick the bottom of the crust with a fork and bake for 15 minutes, or until slightly brown and toasty. Set aside to cool.
While the crust cools, make the chocolate filling: Warm the maple syrup in a small saucepan over medium heat. Whisk in the coconut cream, then add the cacao powder and whisk until smooth. Pour the mixture into the cooled crust and refrigerate for 1 hour, or until firm. Sprinkle with the salt before serving. Store the tart covered at room temperature for up to 3 days.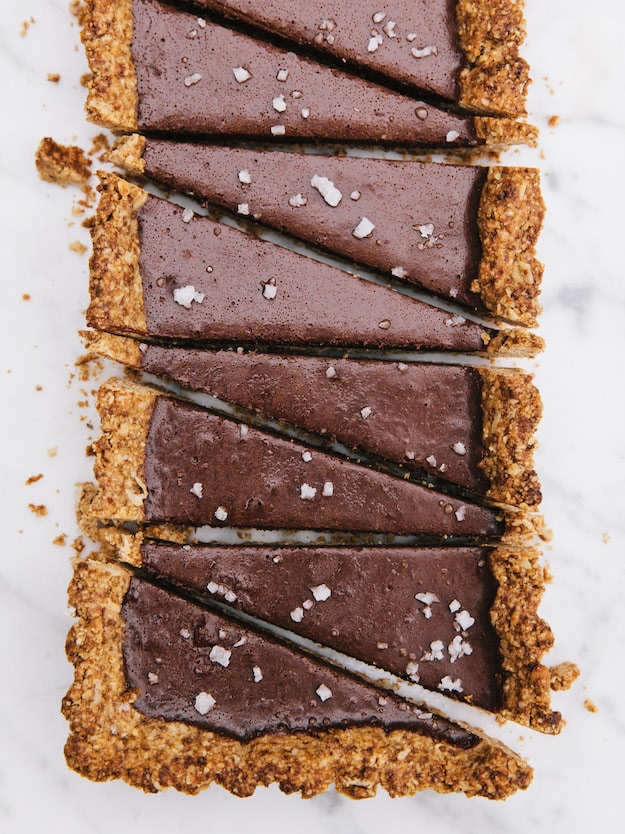 See more of our vegan chocolate desserts and easy vegan cakes and pies.
*This post contains affiliate links. If the product is purchased by linking through this review, VegKitchen receives a modest commission, which helps maintain our site and helps it to continue growing!