This crustless tofu quiche is so tasty and easy to prepare that you may come to prefer it over the heavy egg-and-cheese variety. For another tofu-based quiche, see Ricki Heller's gluten-free Classic Tofu Quiche.
Serves: 6
1 tablespoon olive oil
1 ½ cups chopped onion
2 cloves garlic, minced
8 ounces cremini or baby bella mushrooms, stemmed and sliced
¼ cup chopped fresh parsley or cilantro
2 tablespoons chopped fresh dill
2 tablespoons chopped fresh herbs of your choice (try a mixture of
stronger-flavored herbs such as thyme, tarragon, and/or rosemary )
14- to 16-ounce tub firm tofu, drained well, blotted, and coarsely crumbled
2 teaspoons good-quality curry powder
Salt and freshly ground pepper to taste
½ cup fresh bread crumbs
Sliced tomatoes as needed
Preheat the oven to 350 degrees F.
Heat the oil in a skillet. Add the onion and garlic and sauté until the onion is just beginning to brown. Remove from the skillet and set aside.
In the same skillet, cook the mushrooms over medium heat, covered, until slightly wilted and beginning to give off liquid. Drain the liquid from the pan, stir in the fresh herbs, and remove from the heat.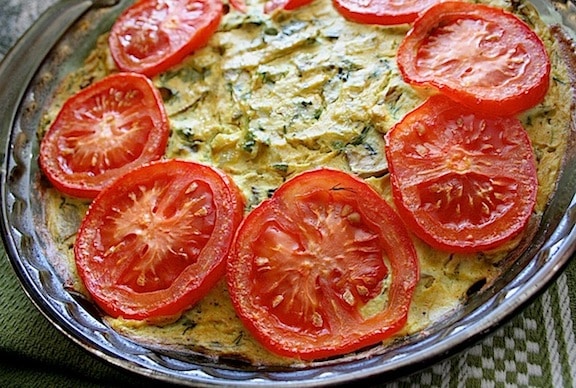 Transfer half of the onion mixture to the container of a food processor along with the tofu and curry and process until smooth.
In a mixing bowl, combine the blended tofu, the remaining onion mixture and the mushroom-herb mixture. Mix thoroughly.
Oil a 9-inch quiche pan or tart pan. Sprinkle the bottom with the bread crumbs. Pour in the tofu-mushroom mixture and pat in. Top with concentric circles of thinly sliced tomatoes.
Bake for 40 minutes, or until firmly set. Let stand for 10 to 15 minutes, then cut into wedges to serve.