Here's the popular Thai noodle dish, Pad Thai, in a vegan version that's easy to re-create at home, with ingredients you can get at the supermarket. Serve with broccoli or green beans (steamed or stir-fried) and a simple cabbage-based salad like those you'll find in A Slew of Slaws.
Serves: 4 to 6
Sauce:
15- ounce can  light coconut milk

¼ cup good-quality ketchup

2 tablespoons natural granulated sugar

Juice of 1 lime

3 tablespoons reduced-sodium soy sauce or tamari
____
8 ounces flat rice noodles

1 ½ tablespoons peanut or safflower oil

8 ounces extra-firm tofu, blotted and cut into short, narrow strips

3 to 4 cloves garlic, minced

8 ounces fresh mung bean sprouts

4 to 6 scallions, white and green parts, thinly sliced

½ teaspoon Thai red chili paste (dissolved in a little water),




sriracha sauce, or dried hot red pepper flakes, to taste (see note)

¼ to ½ cup chopped fresh cilantro, to taste

¼ to ½ cup chopped peanuts

Lime wedges for garnish
Combine the ingredients for the sauce in a small bowl and set aside until needed.
Cook the noodles according to package directions. Follow carefully for best results, or you may end up with a batch of mushy noodles that fall apart quickly! This usually entails soaking in cold water first, before cooking briefly.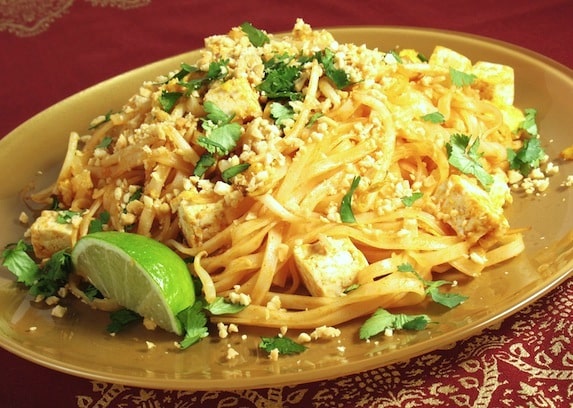 When the noodles have finished soaking and starting to cook, heat the oil in a wide skillet or stir-fry pan. Add the tofu and garlic and sauté over medium heat until both are golden. Add the sprouts, scallions, and chili paste. Cover and steam for 3 minutes, or until the sprouts are just wilted.
Add the cooked noodles and sauce and stir gently but thoroughly. Taste and see if you'd like to add more spice or soy sauce. Serve at once, garnishing each portion with cilantro, chopped peanuts and lime wedges.
Note: Thai red chili paste is available in the Asian foods section of well-stocked supermarkets as well as natural foods stores.
Nutritional Information:
Per Serving: 226 calories; 12.8g fat; 413.1mg sodium; 193.5mg potassium; 21g carbs; 2g fiber; 8g sugar; 8.1g protein