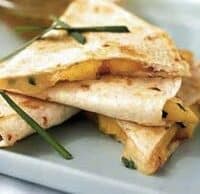 These vegan quesadillas and soft tacos are easy, quick accompaniments to serve with soups and salads. Feel free to add your own variations to the recipe! They can also be served with heartier dishes such as chilies or casseroles for families with hearty appetites.
A quesadilla is a sort of Mexican grilled cheese sandwich in a flour tortilla. Soft tacos are also made with flour tortillas and offer a nice departure from the more familiar crisp corn tortilla tacos. Melted cheese is the common denominator of quesadillas, as it helps everything hold together. For our plant-based purposes, I recommend Daiya vegan shredded cheese, which tastes the cheesiest (and is also soy-free) or Follow Your Heart vegan cheese (soy based). Cheese is not absolutely necessary in soft tacos, especially if using refried beans, which also serve to bind the ingredients together. Here are the basics:
Quesadillas
If you're making only one or two quesadillas, you can cook them on a griddle, but if you need several servings, this can become time consuming, defeating the purpose of making this quick dish. Here's a way to make several at a time in the oven: Sprinkle a modest amount of  grated vegan cheese over each tortilla (use 8-inch, soft-taco size tortillas). Arrange any other ingredients over the surface. Sprinkle with a little more cheese, and cover with another tortilla.
Arrange the quesadillas on a  nonstick baking sheet or two, and bake in a preheated 400°F. oven until the tortillas becomes lightly golden and crisp on the outside, about 12 to 15 minutes; Cut each quesadilla into 4 equal wedges. Allowing 2 to 4 wedges per serving, depending on appetite, and eat out of hand.
Soft Tacos
Spread desired filling on one half of each tortilla, being careful not to overfill, then sprinkle with vegan cheese, if desired. Arrange on individual plates. Heat each serving briefly in the microwave (about 1 minute) or preheated 400°F. oven (about 5 minutes) to melt the cheese, then fold over. Eat at once with a knife and fork or cut into 2 wedges and eat out of hand.
Fillings
Aside from vegan cheese and/or refried beans, here are some suggestions for filling quesadillas or soft tacos. Two, or at most three, items per quesadilla or soft taco is sufficient:
Cooked fresh or thawed frozen corn kernels
Thinly sliced tomato
Sliced black olives
Very thinly sliced green or red bell pepper strips
Green chilies (canned or fresh, seeded and minced)
Black beans
Wilted mushrooms (wild mushrooms are especially good)
Wilted spinach or Swiss Chard
Thinly sliced baked sweet potato
Salsa (red or green)
Thinly sliced tomatillos
More
Make sure to explore the entire Veg Kids and Teens page on VegKitchen for lots of easy, healthy recipes for vegetarian and vegan kids and teens.
Find lots more tortilla recipes in A Southwestern Supper.