This folate-rich and high-protein edamame salad is a favorite in my home. I used the shelled version for this recipe. Though I serve this salad with greens, it can be served without. Recipe and photo contributed by Vasanthi Raghavan, from Mixed and Tossed.

Serves: 2 generously, with the greens
1 cup shelled frozen edamame (green soy beans)



¼ teaspoon salt

1 red bell pepper, finely diced

¼ red onion, thinly sliced

2 cloves garlic, minced

½ green chili, minced (alternatively, use red chili flakes
or Sriracha sauce for a different taste)

2 tablespoons chopped cilantro, plus more for topping, optional

1 cup greens of choice, (softer blends like baby lettuce,
as opposed to romaine, make this salad more palette pleasing), optional

Juice of ½ lemon

Salt to taste
Combine the edamame in a saucepan with a small quantity of water and the salt. Steam for 5 minutes or until tender, then drain.
Combine with the remaining ingredients in a mixing bowl. Toss together and serve, topping with extra cilantro if desired.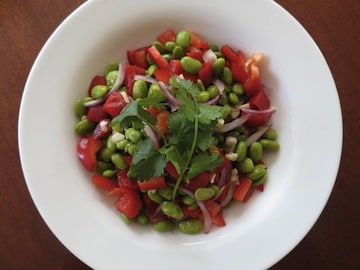 Vasanthi Raghavan has been documenting healthy and delicious salads and soups that she makes for her family and friends at Mixed and Tossed. Most of her dressings are oil free!