It took a while for a virtual non-baker like me to get the hang of baking without eggs, but I did. One of my first projects was to learn how to bake vegan challah because I wanted my son to continue to enjoy his favorite Friday night ritual, safely. I found that it was easier, safer, and tastier to make it myself, rather, than to relentlessly ask questions at the bakery which only yielded nonchalant responses that could result in a potentially life threatening episode.
Often, my guests ask me for this recipe and as part of my mission, I now pass it on to you. Another benefit of this challah (aside from the fact that it is ridiculously simple) is that it is cholesterol-free for those family members or guests who are on restricted diets. Enjoy! Recipe by Rachel Orenstein Packer. Photos by Hannah Kaminsky.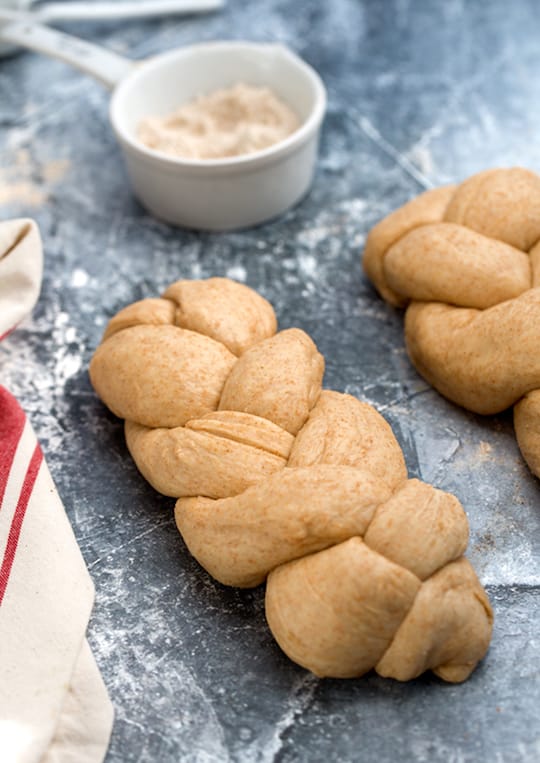 2 ½ teaspoons rapid rise yeast
1 cup warm water (105º to 115º F.)
4 ¼ cups flour (I use 3 cups unbleached flour and 1¼ whole-wheat pastry flour
⅓ cup natural granulated sugar (such as Florida Crystals)
1 teaspoon salt
2 tablespoons organic canola oil or other neutral vegetable oil
Egg Replacement (These three ingredients work as a binding agent.  The "fizzing" that occurs when whisked together provides the "lift" to the finished product. Make sure you add this right before the flour—see Notes for Great Challah below):
3 tablespoons organic canola oil or other neutral vegetable oil
3 tablespoons warm water
2 teaspoons baking powder
Pour yeast into warm water along with a pinch of sugar in a large bowl and mix until combined.
Let the mixture rest for 5 minutes or so until bubbly and creamy (I usually measure out the flour while waiting for the yeast). Add the sugar, salt, and additional 2 tablespoons of canola oil and mix.
Beat the egg replacement ingredients with a whisk (it will fizz) and pour into the yeast mixture.
Add the flour, a cup at a time, until it is difficult to stir the mixture. Transfer the dough to a lightly floured surface and knead it until it is smooth and elastic (approximately 7 to 10 minutes).  It should be springy.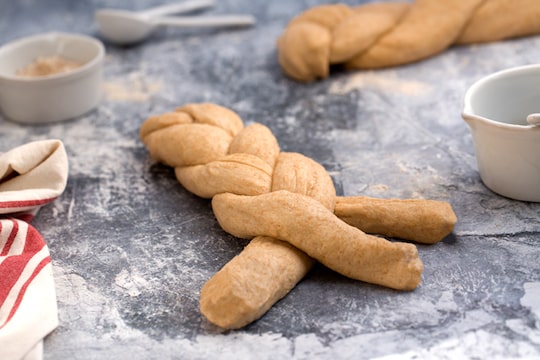 Transfer dough to a lightly oiled bowl. Cover with a slightly damp cloth or plastic wrap and set in a warm place for 90 minutes. It should double in size.
Transfer to a lightly floured surface and cut dough into two equal halves. Divide each piece into three pieces and roll out into 10 to 12 inch ropes. Pinch the ends together and proceed to braid the dough.
Place on parchment lined baking sheet and let rise for additional 30 minutes.
Preheat oven to 350º F. Bake for approximately 25 to 30 minutes depending on your oven. Loaves should be golden and sound hollow when tapped.
Notes for Great Challah:
Add the egg replacer right before adding the flour. The reaction between the ingredients is what will give your challah lift (in lieu of eggs).  If you put it in first, you will not have as much of a reaction when you add the flour.
If you are looking for a healthier option, try using a cup or two (I use 1¼ cup) of Whole Wheat Pastry Flour.  It has all the nutrition of its whole-wheat flour counterpart, (4 grams of fiber, and 3 grams of protein per ¼ cup) though because it is ground from the wheat berry, it yields a far more delicate consistency.
Make sure you preheat your oven.
Baking powder needs to be relatively fresh. Old baking powder will yield a hard, flat challah.
If you put the dough in the oven to rise, make sure the oven isn't hot. Turn it to 200 degrees for 20 seconds and then turn it off, otherwise it will bake the dough prematurely and it won't rise well.
You can also add raisins, chocolate chips. Use your creativity. My kids love it when I brush a little oil to the top of the challah and then sprinkle with a dusting of Florida Crystal sugar before baking.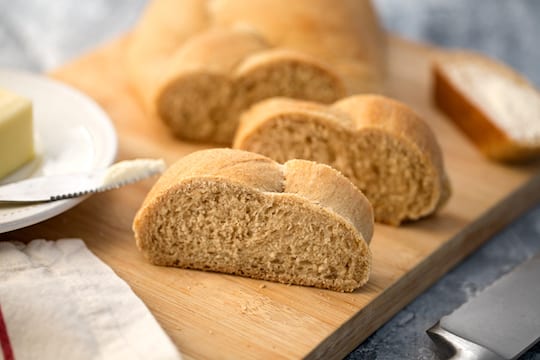 Rachel Ornstein Packer is freelance writer. She has been featured in Washington Family Magazine and Atlanta Parent along with websites such as The Jewish Hostess and Green Diva Mom regarding food allergies/recipes and nutrition. She has also written personal essays for NPR, Baltimore Jewish Times, Washington Post, and Jewish Week.