Matzo minas are layered vegetable casseroles traditional to Sephardic Passover Seders. This one can be aptly described as a matzo lasagna. Many variations are made by Sephardic Jews of various cultures. This one is of definite Italian influence, and will certainly remind you of an eggplant lasagna. Photos by Evan Atlas.
Serves: 8 to 10
2 medium eggplants, about 2 pounds total
2 tablespoons olive oil
1 medium onion, finely chopped
2 cloves garlic, minced
15- to 16-ounce can tomato sauce
14- to 16-ounce can diced tomatoes, lightly drained
¼ cup minced fresh parsley
½ teaspoon each: dried oregano, dried basil, and paprika
Salt and freshly ground pepper to taste
6 matzos
8-ounce package shredded mozzarella-style vegan cheese
Preheat the oven to 400 degrees F.
Cut the eggplants into ½-inch slices. Arrange on a parchment-lined baking sheet, overlapping them a bit might be necessary. Bake for 20 minutes, or until tender but not overdone. Remove from the oven. Turn the oven off to allow the temperature to cool.
Heat the oil in a deep saucepan. Add the onion and garlic and sauté until golden. Add the tomato sauce, tomatoes, parsley, and seasonings. Bring to a simmer and cook over low heat, covered, for 15 minutes.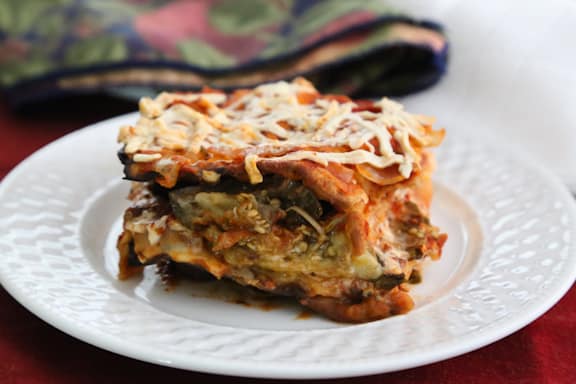 Break each matzo into three strips. Fill a shallow casserole dish with lightly salted water. Place the matzo strips in it for 2 minutes, or until slightly pliable. Don't overdo it; you don't want them to get mushy! Remove carefully to a plate.
Lightly oil a large, shallow baking casserole and layer as follows: a thin layer of sauce, a layer of eggplant, a layer of matzo, and a layer of cheese. Repeat. Bake for 35 to 40 minutes, or until the cheese is touched with brown spots.
Note: Using Daiya cheese (which is made from tapioca flour), should be fine for Sephardic Passover, if you aren't concerned that this product isn't specifically Kosher for Passover.