This is a fun power bowl recipe that will keep your energy high for hours. Miso is a fermented food that aids in digestion and adds a wonderful umami flavor to foods. If you are new to miso, Orange-Maple Miso Dressing is a great way to incorporate it into your diet. Gluten-free, nut-free, refined sugar–free, soy-free option! Recipe and photo from The Oh She Glows Cookbook* by Angela Liddon. Reprinted by arrangement with Avery, a member of Penguin Group (USA) LLC, A Penguin Random House Company. Copyright © Glo Bakery Corporation, 2014.
Serves: 2
1 sweet potato, cut into 1⁄2-inch rounds

1 1⁄2 teaspoons olive oil or coconut oil, melted

Fine-grain sea salt and freshly ground black pepper

1 cup uncooked quinoa
To assemble:
1 cup frozen shelled edamame, thawed

1 medium carrot, julienned

2 green onions, thinly sliced

1⁄4 cup fresh cilantro leaves, chopped

1 teaspoon sesame seeds, optional

1 tablespoon hemp seeds, optional

1⁄2 cup sprouts, optional

Orange-Maple Miso Dressing (recipe follows)
Preheat the oven to 400°F. Line a large rimmed baking sheet with parchment paper. Place the sweet potato rounds on the prepared baking sheet and drizzle them with the oil, rubbing it on both sides to coat. Sprinkle the sweet potatoes with salt and pepper. Roast for 20 minutes, then flip the potatoes and roast for 8 to 10 minutes more, until tender and lightly browned.
Meanwhile, combine the quinoa with 2 cups water (or vegetable broth, if you prefer) in a saucepan and bring to a slow boil. Turn the heat down, cover, and simmer until the water is absorbed, about 15 minutes.
To assemble, divide the cooked quinoa evenly between 2 plates or bowls and season it with salt and pepper. Top with the roasted sweet potato rounds, the edamame, carrots, green onion, cilantro, and, if using, the sesame seeds, hemp seeds, and sprouts.
Drizzle with Orange-Maple Miso Dressing and enjoy!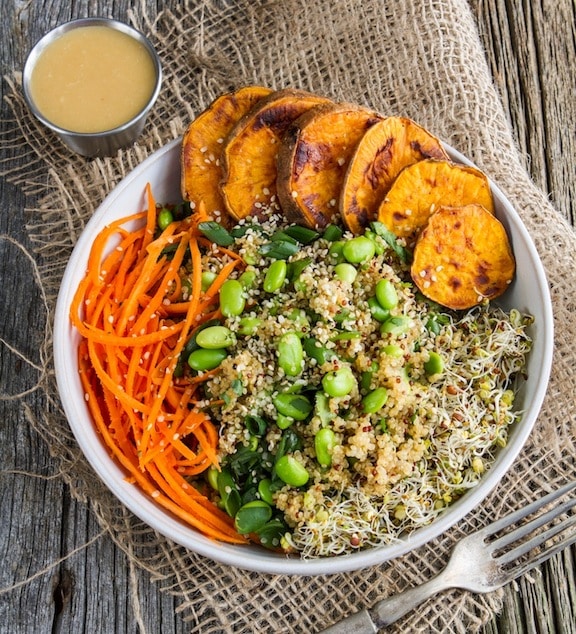 ORANGE-MAPLE MISO DRESSING
Makes about 2/3 cup
3 tablespoons light miso

2 tablespoons rice vinegar

1 tablespoon toasted sesame oil

1 tablespoon tahini

1/4 cup fresh orange juice

1 tablespoon water

1 teaspoon maple syrup
In a mini or regular food processor, combine all the ingredients and process until well combined.
Visit Angela at Oh She Glows for great vegan recipes and gorgeous photos.
Nutrition Information:
Per serving (without optional ingredients & dressing): 550 calories; 12.3g fat; 37.8mg sodium; 355.7mg potassium; 93.6g carbs; 13.3g fiber; 8.9g sugar; 20.3g protein
Orange-Maple Miso Dressing (in 2/3 cup): 270.7 calories; 22.4g fat; 138.5mg sodium; 199.6mg potassium; 16.1g carbs; 1.7g fiber; 4.8g sugars; 3.4g protein
*This post contains affiliate links. If the product is purchased by linking through this review, VegKitchen receives a modest commission, which helps maintain our site and helps it to continue growing!