In the original version of this simple but elegant dish of bowtie pasta, mushrooms, and dried tomatoes, the ingredients are enveloped in a rich cream sauce. I've streamlined and veganized it by making a creamy sauce of low-fat white beans instead. Serve with a colorful salad and fresh crusty bread. Photos by Hannah Kaminsky.
Serves: 6
12 ounces farfalle (bowtie pasta), whole-grain if desired
1 ½ cups cooked or one 15- to 16-ounce can drained
and rinsed cannellini (large white beans)
¾ cup unsweetened nondairy milk (such as rice or almond milk)
1 tablespoon extra-virgin olive oil
3 to 4 cloves garlic, minced
¼ cup dry white wine
8 ounces baby bella or crimini mushrooms, sliced
½ cup sun-dried tomatoes (oil-cured or not, as preferred), cut into strips
Salt and freshly ground pepper to taste
Minced fresh parsley for garnish

Vegan Parmesan cheese

, optional
Cook the pasta in plenty of rapidly simmering water until al dente, then drain.
Meanwhile, combine the beans and rice milk in a food processor. Process until very smoothly pureed. Set aside until needed.
Heat the oil in a medium saucepan. Add the garlic and sauté over low heat until golden. Add the wine and mushrooms and cook over medium heat, covered, until the mushrooms are done, about 5 minutes.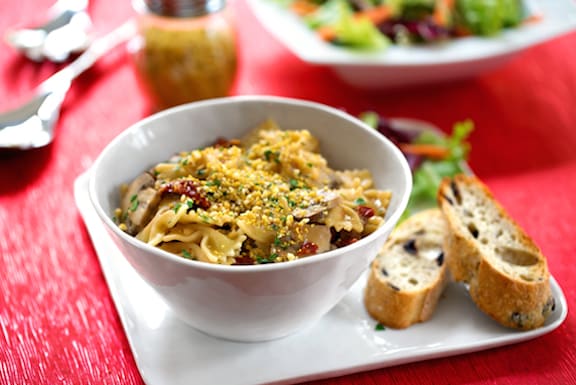 Stir in the dried tomatoes and the bean puree. Slowly bring to a simmer, then cover and simmer gently for 5 minutes.
Combine the pasta with the bean sauce in a large serving container and toss gently until well combined. Season to with salt and pepper and toss again. Serve at once.
Sprinkle the top of each serving with a little parsley, and pass around some Vegan Parmesan Cheese for topping if desired.