Peach season is frustratingly short — that is, that brief period when fresh peaches from your local area are available, not the perfect-looking fruit that's shipped across the country hard as rocks. These ripen into mush, often not very flavorful mush as well. Look for peaches at your local farm markets that already have some give when pressed lightly. They're just right for making fresh peach chutney.
Lots of chutneys are cooked down, but why go there? This combination of fresh fruit (nectarines are just as good here as peaches) and chile peppers strikes just the right balance of sweet and spicy, making a fantastic relish to serve alongside grilled vegetables, curries, and samosas (we used frozen samosas for this delicacy — no way we could have made better ones from scratch!).
Makes: About 1 to 1 ½ cups
6 to 8 ripe peaches or nectarines

⅓ cup dark raisins or chopped pitted dates

1 jalapeño or other hot pepper, seeded and minced

1 to 2 teaspoons grated fresh or jarred ginger

1 tablespoon apple cider vinegar, or to taste

1 tablespoon maple syrup or agave nectar, or to taste
Pit the peaches and dice them into approximately ¼-inch dice.
Combine with the remaining ingredients in a small mixing bowl. Allow to stand for about 15 to 20 minutes.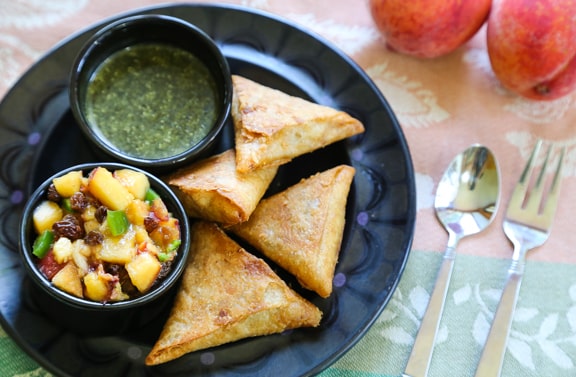 If the mixture becomes watery, drain in a mesh sieve. Either way, taste and adjust the vinegar and  syrup balance. Serve at room temperature.
Store leftovers in a tightly lidded container, in which it will keep for a few days in the refrigerator.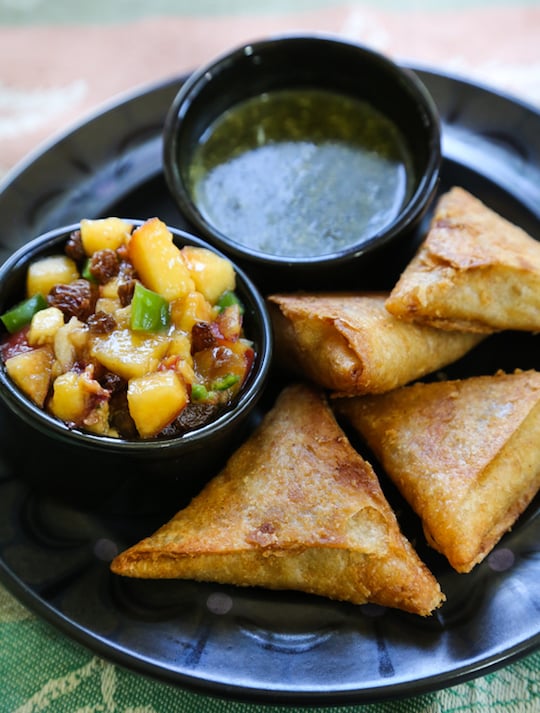 Photos: Evan Atlas
See more recipes for fruity compositions