Use ripe (even overly ripe) red tomatoes for this delightful repast that is sure to capture the flavors of summer's bounty. Made in just minutes, it is the perfect soup for a dinner for two with a veggie-filled pasta dish and a chilled white wine. For a larger crowd, double the recipe. Contributed by Miyoko Schinner, from Now and Zen Epicure.* Photos by Evan Atlas.
Serves: 2 to 3
2 tablespoons extra-virgin olive oil
4 to 5 cloves garlic, finely minced
1 ½ to 2 pounds very ripe tomatoes, chopped
2 cups hot vegetable stock
⅓ cup fresh basil, thinly sliced
Salt and pepper
3 to 4 slices French bread, about ½ inch thick
Heat the olive oil in a soup pot, and sauté the garlic over low heat for 3 to 4 minutes.
Add the tomatoes, turn the heat up to high, and bring to a gentle boil. Reduce the heat and simmer for 5 minutes.
Add the stock and continue simmering uncovered for about 10 minutes, until the tomatoes are tender but still fresh tasting; don't overcook.
Stir in the basil and season with salt and pepper to taste.
Tear or cut the bread into large chunks, and stir into the soup. Cover and allow to sit for at least 5 minutes before serving.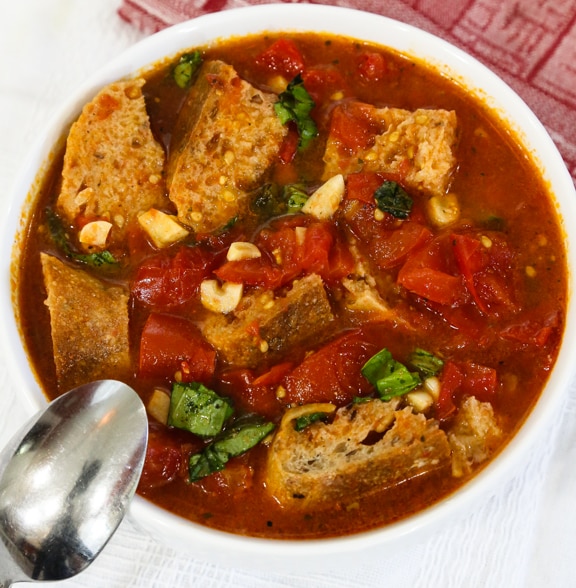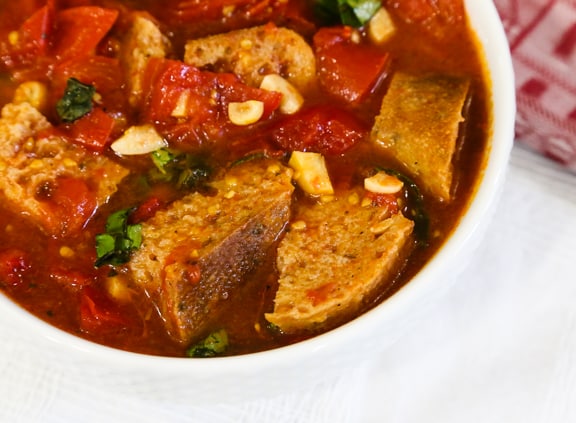 Visit Miyoko's Kitchen on the web.
*This post contains affiliate links. If the product is purchased by linking through this review, VegKitchen receives a modest commission, which helps maintain our site and helps it to continue growing!