I love making cool, refreshing soups that need no cooking at all on hot summer days, like this one, that combines fresh tomatoes with coconut milk. Cilantro, lime, and a hint of heat give this cold soup a Thai flavor. Adapted from Vegan Express by Nava Atlas. 
Serves: 6
2 pounds ripe flavorful tomatoes, coarsely chopped

2 scallions, coarsely chopped

¼ cup fresh cilantro leaves, or more, to taste

One 14.5-ounce can light coconut milk

Juice of 1 lime, or more to taste

Thai red chili paste, dried hot red pepper flakes,




or sriracha sauce, to taste

Salt and freshly ground pepper to taste
For topping:
1 large yellow tomato, finely diced,




or 1 cups halved yellow or red grape tomatoes

½ cup finely diced orange or green bell pepper

Fresh basil leaves, cut into strips, as desired
Combine the tomatoes, scallions, and cilantro in the container of a food processor. Process until coarsely pureed, then transfer to a serving container.
Whisk in the coconut milk, lime juice, sugar, paprika, salt, and pepper. Cover and refrigerate the soup for 30 minutes to an hour or so to chill and allow the flavors to blend.
To serve, ladle the soup into bowls, then place a little of each of the topping ingredients in the center of each. Serve at once.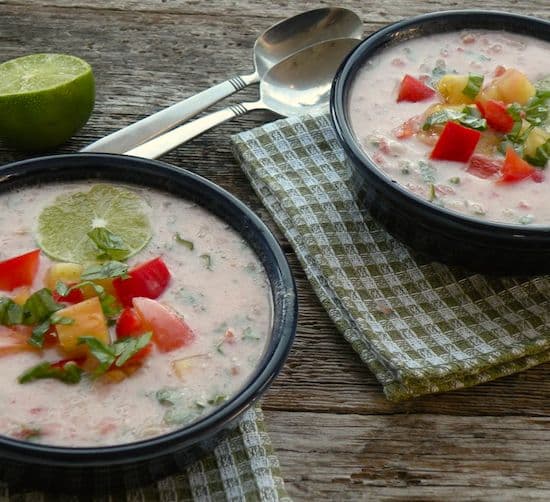 Nutrition Information:
Per serving: 113 calories; 5g fat; 25g sodium; 17g carbs; 3g fiber; 3g protein